Previous

Next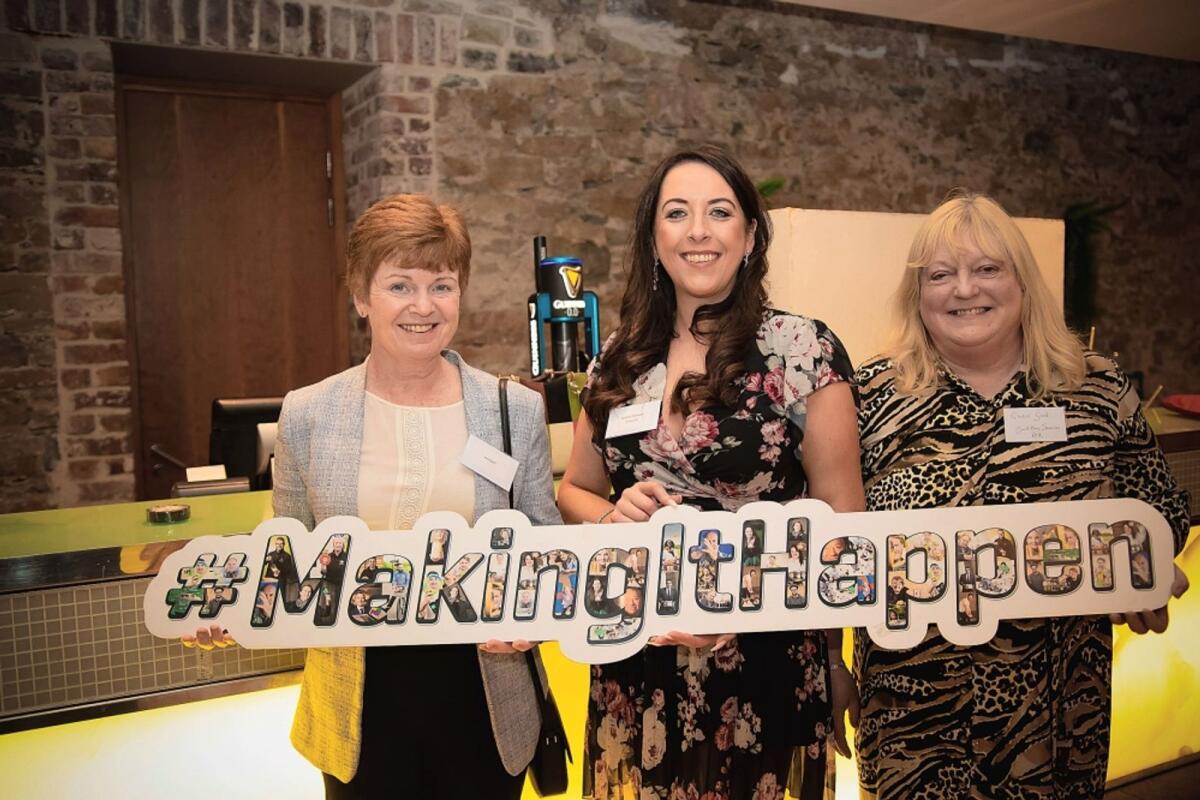 Cavan business women were out in force last Thursday, October 13, to celebrate National Women's Enterprise Day 2022.
Sixteen different events were organised all over Ireland by Local Enterprise Offices (LEOs) including LEO Cavan. The theme for this year's event was 'Our Future, Our Way' with the aim of inspiring more women in Ireland to start and grow their own business.
The Cavan event for female entrepreneurs took place in the Farnham Estate and was organised by the Cavan Business Women's Club. Over 60 local business women participated. The event began with a welcome address by Marcella Rudden, Head of Enterprise, Local Enterprise Office Cavan.
Speaking after the event, she said: "National Women's Enterprise Day is a key milestone for Local Enterprise Offices around the country highlighting female success stories and connecting female entrepreneurs to give them the opportunity to learn from each other and share business challenges and solutions. For any female entrepreneurs in business or starting one up, our advice is to come and talk to the team at Local Enterprise Office Cavan and we will quickly put you on a path to the right enterprise supports. Just start a conversation with your Local Enterprise office and we can guide you from there."
Damien English, Minister of State for Business, Employment and Retail, also sent the members a message by video link.
The guests then heard an empowering panel discussion with three leading female entrepreneurs: Ann Rudden, founder and Managing Director, Aine Handmade Chocolate who was chosen as a 'Leading Light' for National Women's Enterprise Day 2022; Tara Walker, owner of East Coast Cookery School and author and TV chef on Virgin Media's IrelandAM and Aisling Kirwan, co-founder, Positive Carbon, a company that provides businesses with food waste monitoring technology to allow them to cut their food waste and save thousands on food bills.
The facilitator for the panel discussion was Francis Verling, Verling Consulting, who has over thirty years' experience in business, working with micro-enterprises and 'owner-managers' on all aspects of business development. Margaret McKeon-Boyle, Extensive PR and coordinator, Cavan Business Women's Club, was the Master of Ceremonies for the event.
The attendees on the night also enjoyed an Expo that included a showcase of French Label Clothing from Cavan Business Women's Club member, Fiona Johnston; a gin tasting experience of Runway28 Premium Gin by ex Cavan Business Women's Club member, Ann Marie McLoughlin Dwyer, now based in Donegal and Catherine Kiernan, employer relations officer at the Department of Social Protection (DSP) who works with employers in the Cavan and Monaghan region, was also on hand to offer advice on recruitment.
The final 2022 Cavan Business Women's Club event will take place on December 7 in the Farnham Estate with a theme 'Planning Ahead for 2023'. Details of the event will be published on Cavan Business Women's Club social media.

Credit: Source link