At The University of Queensland, we're continuously impressed by the entrepreneurial spirit and startup ideas that come out of our UQ Ventures community.
We asked Tom Bizzell, a Bachelor of Commerce / Bachelor of Laws (Honours) student and UQ's Chief Student Entrepreneur, and Lara Berge, a Bachelor of Advanced Business (Honours) student and a UQ Ventures Ambassador, to discuss their own Ventures experiences.
What's the startup that you launched at UQ?
Tom: The startup I cofounded with Jack Anderson is called WakeShare, and it's all about overcoming hurdles to platooning in the trucking industry. (Platooning is the practice of travelling in convoy to get fuel efficiency benefits from the drag reduction, similar to how a cyclist in a race would ride behind other cyclists in front.)
We recognised that for semi-autonomous trucks to benefit from platooning, they would have to platoon with competitors and that there were a couple of hurdles to this.
First of all, ensuring that there was a mutual benefit between the truck in front and the truck behind if they were two different companies because, of course, only the truck behind is getting a fuel efficiency benefit.
The second hurdle being the coordination of it. We recognised that the scheduling data the truck companies would have to share in order to know when and where they would have a platooning opportunity would be commercially sensitive, because it's data from which you can derive things like clientele.
And so we set about overcoming both of those hurdles with a software platform that helped coordinate that platooning practice throughout the industry.
Learn more about WakeShare and Tom's experiences at UQ
Lara: Hirely was a 'cloud-based wardrobe' platform aimed towards young professional women based on a subscription business model.
By providing a platform in which young women could rent outfits to wear for a special event, the business combatted the textile waste epidemic by providing this as an alternative to the consumeristic fast-fashion cycle – the cycle being that young women would buy a fast fashion outfit for an event, wear it once, get photos in it for socials, and never wear it again. The garments would then be added to our excessive textile disposal collection.
Learn more about Hirely and Lara's experiences at UQ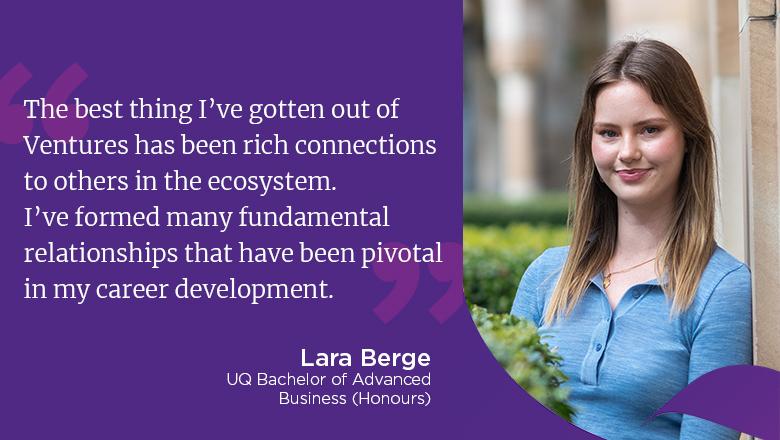 How did you first hear about UQ Ventures?
Lara: I first heard about UQ Ventures in the second semester of my first year at UQ through a friend who had completed the Validate (formerly Startup Academy) program. He knew I was interested in entrepreneurship and wanted to take my current business, which I had started in my second-last year of high school, to the next level.
Tom: I found out about UQ Ventures while I was still in high school. UQ Ventures runs a high school program where it goes out and takes students through the design thinking process and other such educational modules.
Which Ventures programs have you participated in?
Tom: I've participated in two Ventures programs so far. First of all was the one in high school. The second one I participated in was the Ventures Curiosity program. It's a program for UQ students that takes them through some of the fundamental ideas and frameworks around design thinking, prototyping and validating different business ideas that students might have. And it exposes them to entrepreneurship and how their degree of study might allow them to pursue that sort of pathway.
Lara: I started by getting involved in the Curiosity program (previously Idea Hub), then Validate (previously Startup Academy) which I went on to win first prize in with my startup Hirely, where I pitched an extension of my current business Only Once Hire Boutique.
Read the full story 
Credit: Source link