Romarna Campbell had a sneaking suspicion that she was being tokenized. So she decided to indulge in a little mischief.
When the UK-based drummer was commissioned for a piece, she noticed something was off. Her male counterpart had received a detailed prompt; Campbell just got a bare request for music. "There was no guidance. There was no, 'We would like it in this space, or to be inspired by this,'" she tells GRAMMY.com. "They were very much more interested in having press shots and biographies than they were in this commission."
Campbell felt blithely compartmentalized — an unwilling vessel for a performative gesture. "It baffles me that you could reduce my art solely to me being Black or being a woman because it ticks a box for you somewhere," she continues. "And probably a funding box as well." To get one over on them, Campbell submitted the most rudimentary, half-baked music she could drum up — mostly some MIDI loops with rotten harmonies.
And, of course, it was accepted enthusiastically.
"During my friend's commission, he was sending them parts and they would give him feedback," she says. "I sent them this trash commission, and they sent me this really happy email that was like, 'Oh, Romarna, we're so grateful for your artistry.'" Campbell called out the commissioners, directing them to her Bandcamp stuffed with fully conceptualized and executed works as a point of reference.
When they requested a new composition, Campbell asked for more money — as she'd held up her end of the contract — which they couldn't, or wouldn't, give. And when they asked for a meeting about her experience to ascertain how they could improve it, Campbell refused.
"I'm not a cultural or diversity consultant," she says. "So, why is that my responsibility for an organization that's trying to say that they have this diverse roster of musicians and composers?"
Romarna Campbell. Photo: Iza Korzack
Campbell's story resonates because it bears so many hallmarks of what women and gender-expansive musicians face in jazz and creative-music spaces: tokenism, patronization, a request to "educate" those perpetrating such attitudes. This is ironic given how couched in progressive politics and academia this world is — imbued with an intellectual air.
Granted, women and gender-expansive musicians have made strides over the decades. Not only are brilliant yet underheralded artists of yore like Mary Lou Williams, Geri Allen and Lil Hardin increasingly venerated, analyzed and discussed, but the pages of magazines like DownBeat and JazzTimes are full of women and non-cis, non-hetero musicians.
But in almost every sector of the jazz world, there's a long way to go — from how writers talk about women, to fair representation on festival lineups, to interpersonal interactions at residencies and workshops, and so on. 
That's why Campbell joined up with M³, or Mutual Mentorship for Musicians — a community meant to establish "a new model of mentorship" that elevates women and gender-expansive musicians, while offering chances for unique, collaborative commissions.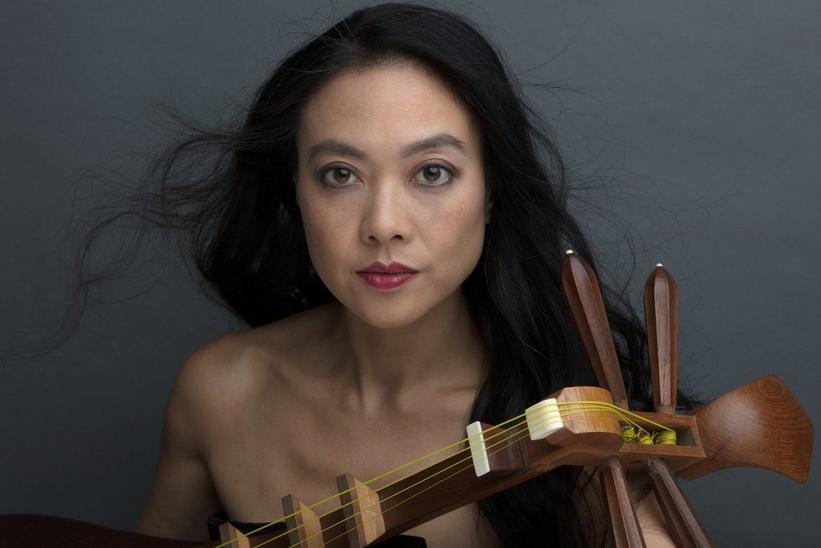 Jen Shyu, a co-founder of M³. Photo: Daniel Reichert
Founded by musicians Jen Shyu and Sara Serpa in 2020, M³ is just one of a host of jazz-adjacent organizations offering an alternative to outdated and occasionally corrosive systems of gatekeeping, hierarchy and exclusion.
Because of the sheer diversity of its members' creative and cultural backgrounds, M³ provides a wellspring of insight. Across a litany of interviews with its members, common themes emerge — identifying fundamental issues, but also potential solutions.
"I think part of it needs to be developed on a grassroots level, on a community level, and even moreso on a structural and cultural level — where the culture starts to shift in terms of it being a male-driven community and culture," saxophonist and composer Caroline Davis tells GRAMMY.com. "This patriarchal, boys' club situation."
Speaking Mindfully
In Davis' view, a possible first step to challenging that paradigm is simply being mindful of the way we talk to each other in the jazz community — including who gets the often bandied-upon designator of "genius."
"Older women are not geniuses, but older men are always geniuses and they have their following," Serpa notes. "And I'm not talking about people in the mainstream or who have access and resources. We have had musicians in our cohorts that have been on the scene for 30, 40 years. Even us — we haven't heard of them."
Plus, in the jazz community, especially adept players are often described as "killing" or "murdering" or "taking no prisoners." Obviously, nobody means that literally, and it's generally meant as a term of endearment or admiration. Still, Davis says, speech like that can alienate in surprising ways — and not simply due to varying tastes or sensibilities.
"It could be as simple as us shifting our language to include less brutalized words," she continues. "Maybe that seems performative, but I think it actually makes a huge difference to shift the way we talk about music, and the way people are sharing music."
Guitarist and composer Jessica Ackerley agrees: "Everything is rooted in harming other people," they tell GRAMMY.com. "Which is completely ridiculous."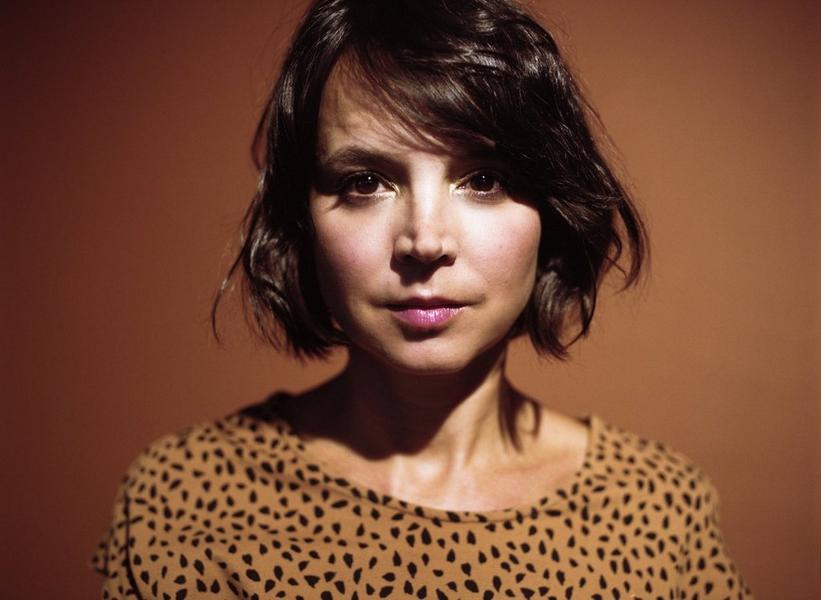 Sara Serpa, a co-founder of M³. Photo: Ebru Yildiz
To fellow M³ member Anjna Swaminathan, this doesn't just serve to swerve around sensitivities — it offers a more holistic and inclusive model of success that doesn't just mean brute athleticism and might.
"It becomes this ego fest of how fast you can play, how complex you can get, how many polyrhythms you can learn," Swaminthan, a multidisciplinary artist, tells GRAMMY.com. "Straight, cis, white men who probably thought that they were happy with that success — they themselves will be able to heal, because we are offering another option."
But a need for more thoughtful language doesn't just extend to the classroom, or backstage, or in private conversation; it applies to how journalists write about musicians who aren't straight, white males.
Sticking To The Music — And Dispensing Of Boxes
In features, profiles and reviews, wrongheaded writing usually goes in one of two directions. The first is an example of old-school chauvinism — a writer salivating over a femme-presenting person's appearance before dealing with their art in any meaningful way.
The second is shoehorning them into readymade categories — even, or especially, when it's to a "progressive" end. Miriam Elhajli, a singer, composer and improviser who uses she/they pronouns, recalls one particularly off-putting exchange to this end.
"Someone was trying to write this article about me, and they were like, 'Well, tell me about your sexuality. What are your pronouns?' And I was just like, 'Honestly, dude, this has nothing to do with the music," she tells GRAMMY.com. "I don't want to tell you any of that s—t because it has nothing to do with it."
Elhajli goes on to question the idea of "having my moment to shine" — just because they happen to fit in a category of marginalized people at a convenient time.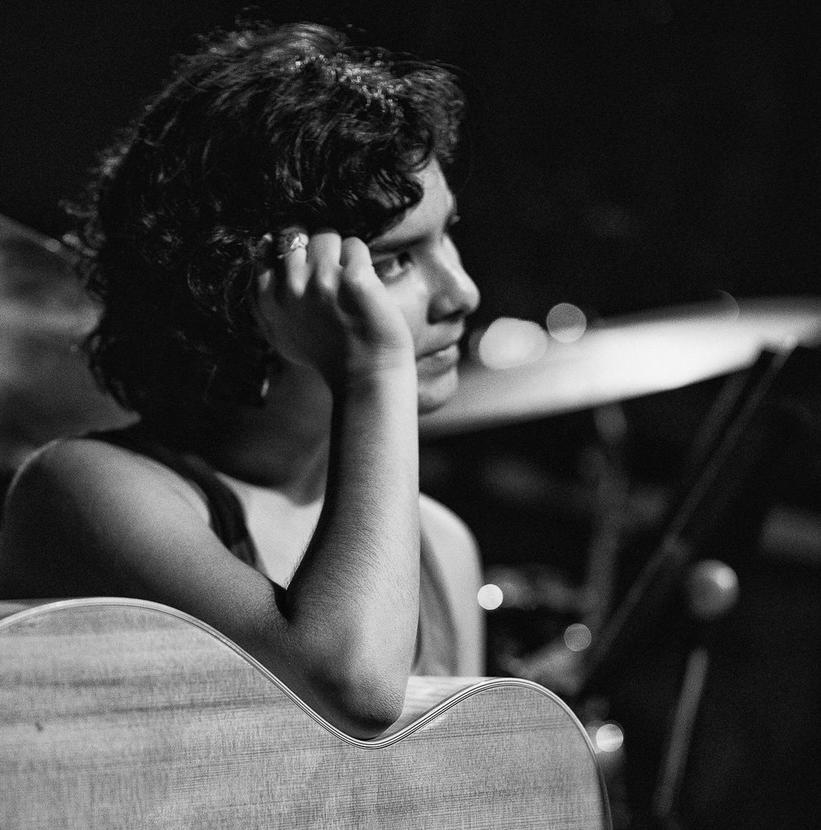 Miriam Elhajli. Photo: Daniel Katzenstein
"There's boundaries, and there's a personal life too," they say. "I don't want to be pigeonholed. I contain multitudes. Why should I have to adhere to any identity politics? Identity politics are just getting really claustrophobic right now for me. We're missing the plot a little bit."
Campbell's thinking would seem to jibe with this; she highlights how attempts at inclusivity can tip over into reductionism. This aligns with M³'s grander aim — not to divide musicians by perceived degrees of marginalization, but reflect the reality on the ground and open doors for talent from all walks of life.
"Maybe we can have a relationship between macho [behavior] and jazz in the history of jazz," pianist and composer Paula Shocron, who hails from Buenos Aires, tells GRAMMY.com. "But if you go to the States and see the jazz scenes, it's not the same."
"I just want to make it clear that we're not, in doing this mutual mentorship for musicians program, [we're not making] an effort to eschew or exclude anyone," Davis adds.
As Shyu puts it to GRAMMY.com, "It's important to educate, but, at some point people have to educate themselves. We've made this model of M3. We want people to embrace that and make their own mentorship models. But at some point, don't the men and the white cis males, need to also have these conversations?
"It's more of an effort to say, 'Come along with us," Davis adds. "We're all here trying to fight this together, and we need everyone.'" This doesn't only apply to M³, but all the other organizations in their constellation trying to make jazz and creative music a fairer, more holistic place.
A Constellation Of Initiatives
Next Jazz Legacy, an apprenticeship program for women and nonbinary musicians, helmed by The New Music USA organization and Berklee Institute of Jazz & Gender Justice, is pushing for the same outcome.
"We not only have to face the facts that misogyny and sexism are still very much a part of the music industry," Terri Lyne Carrington, a GRAMMY-winning drummer and Next Jazz Legacy's artistic director, said in 2022. "We have to change the systems and patterns that have remained oppressive in order for the music to fully flourish and match how humanity is evolving."
When Kris Davis, a pianist and composer at the cutting edge of the New York scene, got the call from Carrington about Next Jazz Legacy, she felt close to tears.
"I thought, 'Wow, she's really going to make a difference. The mentors are super famous musicians,'" she tells GRAMMY.com. "And whether people know about the grant or not, they're going to see these young people's names next to these incredible mentors — and that's saying something to the community." (Today, she's on the advisory board.)
Linda May Han Oh, an Australian bassist who works in an apprenticeship role at Next Jazz Legacy, views these dovetailing initiatives as working in parallel with women's and LGBTQ+ rights writ large — including transforming gender roles and the right to vote.
"It's always been a very traditional role for a woman to be a wife, to be a mother, to stay at home while the male, the husband, works and tours and brings in the money," she tells GRAMMY.com. "And I think that in itself lends itself to inequality or inequity."
Oh impresses upon her students the importance of cultivating "your own resilience and your resourcefulness in a way that you can be as independent as you possibly can," she says. "It's a combination of grit, but also flexibility."
Also of note is jazz luminary Dee Dee Bridgewater's Woodshed Network Residency, which focuses on connecting, supporting and educating women and non-gender-conforming artists. In an interview with JazzTimes, Bridgewater's daughter and manager, Tulani, who co-founded the residency, cited "an appreciation for the gift of mentorship I've received at various junctures."
"I've tried to give back along the way," she added. "But this opportunity created by my greatest mentor, my mother, offered a concrete and focused way to pay that forward."
Going Global
These types of programs are far from exclusively stateside affairs. REVA Inc, a Brooklyn-based nonprofit with an aim to "develop art experiences that educate, inspire and heal people and communities," has a purview reaching as far as South Africa.
And the seed was an online hang during the pandemic, facilitated by their co-artistic director — tenor saxophonist, pianist and composer Jessica Jones, who also has run JazzGirls Day at Jazz at Lincoln Center in New York. The name? Global JazzWomenHang.
Soon, it was wholeheartedly embraced by a number of women from a South African jazz camp, Jazz Camp for Female Instrumentalists Mamelodi, and eventually hosted by one of the camp's founders, bassist and composer Sibongile Buda.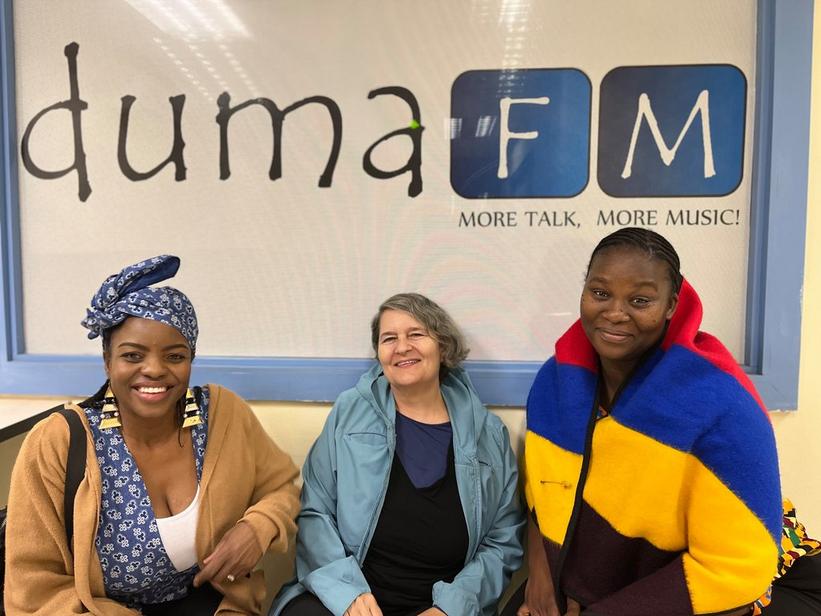 Akhutleleng Kekwaletswe, Jessica Jones and Sibongile Buda. Photo: Leroy Nyoni
When the pandemic made live performance impossible, Buda saw an opportunity. "[We searched] for a bigger concept of performance that could incorporate people in different countries," she tells GRAMMY.com. "And also show how the number of women has increased in all the countries that we kind of tapped into."
The online collaboration network eventually blossomed into a real-life festival in Botswana, helmed by Buda, Jones and saxophonist and music teacher Akhutleleng Kekwaletswe. A preceding one-day workshop arranged by Kekwaletswe found more than 50 girls on different instruments; the festival itself involved 24 women on stage.
"The future is very bright, That's a very common line in Botswana: 'The future is bright,' meaning that you see some hope," Kekwaletswe says. "There is a lot of positivity and positive energy towards what we are doing."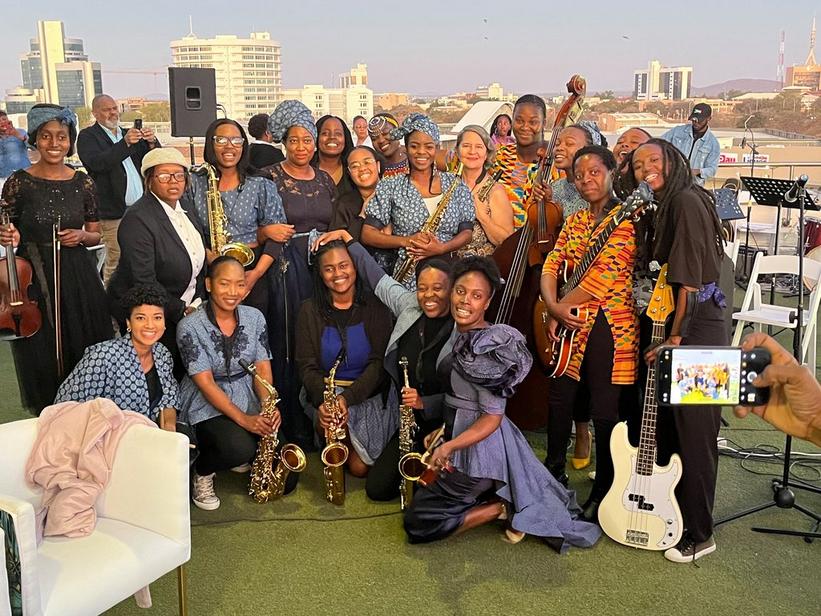 The complete festival lineup. Photo: Nthabiseng Segoe
Throughout the jazz ecosystem, this mission has serious wind in its sails. To say nothing of the Women in Jazz Organization (WIJO), whose membership has a significant overlap with M³ and Next Jazz Legacy. Among WIJO's mentorship class are Carrington, Caroline Davis, pianists Helen Sung and Marta Sanchez, trumpeter Bria Skonberg, and other modern greats.
"The impact that being a woman has on your pursuit of a jazz career can't be boiled down into one issue, nor should it," WIJO's founder, saxophonist Roxy Coss, told DANSR. Therein, she noted the multitude of indignities often involved: microaggressions, exclusions, discouragements, dismissals. "The fact of being a woman affects your experience entirely, and the specific ways it affects one's pursuit are often unnoticed, even by the woman herself."
This may hold true on stages, in conservatories, and in classrooms, and we've assuredly got a long way to go. But, rest assured: as this field goes, we've got our best and brightest on the case. And few who behold them on the bandstand would dare to say otherwise.
The Real Ambassadors At 60: What Dave Brubeck, Iola Brubeck & Louis Armstrong's Obscure Co-Creation Teaches Us About The Cold War, Racial Equality & God

Credit: Source link