Arizona's deadlocked races pit brother against brother
PHOENIX — Truck driver Robert Williams has barely spoken with his twin brother since Donald Trump became president. That politics-fueled animosity has only increased in recent months as Arizona's closely watched races draw national attention to four Trump-endorsed candidates.
"It's really ruined our relationship as brothers," he said.
Williams and his wife were among several hundred attendees at a local Teamsters union picnic featuring Katie Hobbs, a Democrat running for governor, and Sen. Mark Kelly. The union endorsed both candidates and a slate of other Democrats.
Williams and his twin brother are both Teamsters and coworkers, but their relationship has soured.
"Unless I'm at work, I don't really talk to him," Williams said. "He's gone off the deep end."
That division is felt throughout Arizona, where both the gubernatorial and U.S. senate races are virtually tied. While some voters say they are energized, others worry that the Republican candidates won't accept election results if they lose.
Williams, who voted for Trump in 2016 but not in 2020, said the former president's vitriol and peddling of unfounded conspiracy theories caused him to lose faith in the GOP. His wife, a Latina who has always voted Democrat, also pushed him to the left, he said.
"I wish more people would open their eyes to what that party has become," Williams said. "Hopefully democracy survives."
GOP Sens. Tom Cotton, Steve Daines stump for Arizona Republicans
CHANDLER, Ariz. — Following Missouri Sen. Josh Hawley's surprise appearance in Phoenix on Friday night, Republican Sens. Tom Cotton, of Arkansas, and Steve Daines, of Montana, joined Arizona conservatives Saturday afternoon in an effort to boost GOP contenders who are tied neck and neck with their Democrat challengers.
Daines has campaigned on behalf of Republicans in tight races across the country, including in Georgia with Herschel Walker and Ohio with J.D. Vance.
In Arizona, Daines is throwing his weight behind Blake Masters, a 36-year-old venture capitalist who has worked closely with PayPal cofounder Peter Thiel. Masters is looking to unseat Sen. Mark Kelly, a former astronaut.
"I love the fact that Blake is a business guy. I just think he's a great candidate," Daines said of Masters.
Speaking to a large crowd outside Phoenix, Cotton also praised Masters and bashed everyone from President Joe Biden to Anthony Fauci, Biden's chief medical adviser: "You can sense this is going to be a big [red] wave," he said.
Obama makes case for Democracy at Philadelphia rally
Former President Barack Obama joined President Joe Biden Saturday in Democrats' last-minute effort to bolster their candidates in key Pennsylvania midterm races, including U.S. Senate and governor.
Speaking at a Philadelphia rally for Democratic gubernatorial candidate Josh Shapiro and Lt. Gov. John Fetterman, who is seeking a Senate seat, Obama continued to belt out fiery rhetoric about the importance of midterm elections, which Americans often find less important.
With the House facing voters and the political parties fighting viciously over a U.S. Senate seat in Pennsylvania, Obama made a case for the election being existential for Democracy.
The former president drew a direct line between the Republican nominee for Pennsylvania governor, Doug Mastriano, and what he suggested was an increasingly undemocratic GOP.
Obama argued that so-called MAGA Republicans like Mastriano, a state senator who has said he was outside the U.S. Capitol on Jan. 6, 2021, represent this break with Democracy and support a more authoritarian form of government where counting a vote is more abstract.
Mastriano's campaign didn't immediately respond to an email request for comment.
"Generations of Americans fought and died for our democracy," Obama said. They "gave their lives for this precious thing, this experiment in self governance."
"You can't take it for granted," he added.
Republican voters in Arizona say border security, inflation are top concerns in midterms
PHOENIX — Longtime friends and lifelong Republicans Nancy Dombrowski and Deanna Schreckler couldn't think of a better way to spend Saturday than to shake hands with their favorite candidates.
They were the first in line at 10 a.m. at the American Way Market and smokehouse outside Phoenix to meet a group of Republican contenders, who have been dubbed "the fabulous four" and "the fantastic four" by local party leaders.
The four, who have all been endorsed by former president Donald Trump, include gubernatorial candidate Kari Lake, Blake Masters for U.S Senate, Abe Hamadeh for state attorney general and Mark Finchem for Arizona secretary of state.
"She's a fighter. She's a rockstar. She says it like it is," Schreckler said of Lake, adding that she is most concerned with border security, inflation and rising crime rates.
"I don't think anyone can say they are better off than they were two years ago," Schreckler added.
Dombrowski, who moved from Oregon to Arizona 12 years ago, said she worries that Phoenix is becoming like Portland as homelessness and housing costs increase across the region.
"The left hates us," she said. "We are all being targeted if you don't agree with them. The U.S. is getting more and more like Russia."
Stumping for Pennsylvania Democrats, Biden continues to defend his economy
Well aware of the economy's top standing among voters' concerns, President Joe Biden on Saturday continued to tout his record on taxes and the deficit as he stumped for Pennsylvania gubernatorial candidate Josh Shapiro and Lt. Gov. John Fetterman.
The president, amid a last-chance campaign tour aimed at shoring up Democrats in Tuesday's midterm elections, touted a new 15% minimum tax for corporations and slicing the federal deficit in half this year.
"The days are over for corporations paying zero federal tax," he said at a rally in Pennsylvania, where Fetterman carries Democratic hopes to pick up an additional U.S. Senate seat.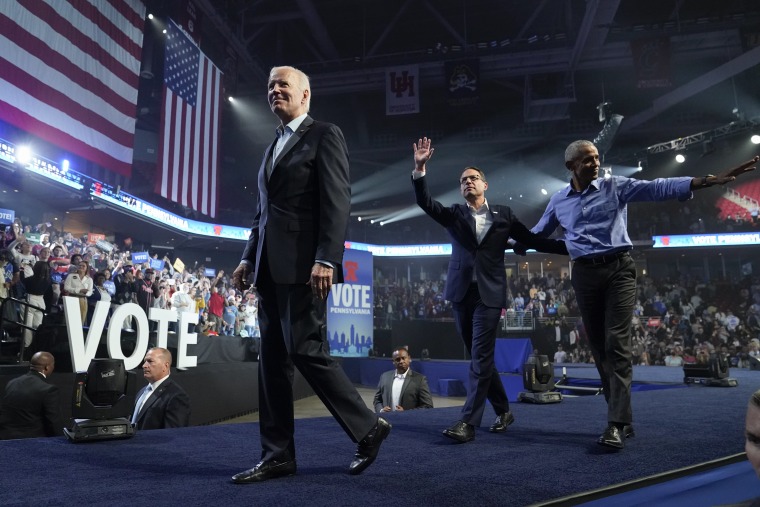 Biden pushed back on Republican critics like U.S. Rep. Marjorie Taylor Greene, R-Ga., who think his student loan debt relief is an unfair giveaway.
He noted that Greene's business interests were the beneficiary of $180,000 in forgiven Paycheck Protection Program loans.
"Marjorie Taylor Greene," he said. "God bless her soul."
Biden blamed big oil companies for the preponderance of price increases at the pump, repeating his talking point that six oil giants made more than $100 billion in profit in the last six months. "It's outrageous," he said.
The president's remarks at Temple University in Philadelphia came a day after the Labor Department reported the U.S. economy added roughly 261,000 jobs in October.
Early voting breaks records in Georgia as bitter Senate race tests red-to-blue drift
SMYRNA, Ga. — A record-breaking early voting stretch has ended in Georgia and the two candidates in a bitterly contested Senate race are making their closing pitches in the final sprint to Election Day.
The contest will test the Democratic-friendly drift in this former Republican stronghold, which voted to elect President Joe Biden and two Democratic senators two years ago. Now, one of those senators, Raphael Warnock, is fighting for his political life in a tougher environment for his party against GOP rival Herschel Walker, a former football star who has been mired in controversy.
More than 2.5 million Georgians have already cast ballots by mail or voting early in person, setting a new record. According to the NBC News early vote tracker, 49% are registered Democrats and 42% are Republicans; 70% of them are age 50 or older, and 56% are women.
Down the stretch, recent polling shows Walker closing the gap to a statistical dead heat as Biden's low approval rating and economic pain create headwinds for Warnock and Democratic candidates to navigate in battleground states across the country.
Read more here.
Gov. Candidate Josh Shapiro: 'I have confidence' in Pennsylvania election officials
Inside Obama's much-fêted return to the trail
Former President Barack Obama is back on the campaign trail and enjoying the freedom that comes with stumping without the constraints of being in office.  
A former Obama administration official who has traveled with the former president for some of his stops compared the more free-wheeling Obama to one seen in the early days of his 2008 candidacy, when he similarly had a smaller security footprint and fewer staff. Now free of the pressure of having to run his own campaign, he has emerged as perhaps Democrats' most effective midterm campaigner.
Biden, meanwhile, has privately expressed frustration that his frequent official events on the economy, whether in Washington or across the country, are not translating into a boost for Democrats at the polls.
While Obama's message and travel have been closely coordinated with Biden advisers and the Democratic National Committee, he has occasionally gone off script. An aide said that his comments about the dignity of work and protecting Social Security at a campaign event in Wisconsin, which were heavily circulated on social media, were not part of his prepared remarks.
Michigan Democratic Party organizers said they recruited more than 500 volunteer get-out-the-vote shifts from his event in Detroit last weekend, with an even larger number coming from his Milwaukee event the same day. And the DNC reported that his appearance on Monday Night Football's "Manningcast" drove a spike in direct traffic to its IWillVote.com site.
To date, Obama has also recorded more than 30 ads and robocalls for Democratic candidates, including new ones taped just on Friday.
Get them on social media and keep it authentic, Gen-Z consultants advise candidates
After Generation Z voters turned out in record numbers in 2020, a nascent but growing crop of consulting firms hopes to help candidates better reach an electorate skeptical of more traditional appeals.
"The Gen Z electorate can make or break the election in some of our key races," said Ashley Aylward, 26, a research manager at HIT Strategies, a Washington-based public opinion research firm focusing on youth and minority voters.
The firm was started in 2019 "because we were seeing so many political operatives kind of just dismissing the emerging electorate — young people, people of color," she said.
About 8.3 million young people became eligible to vote in the 2022 elections, according to Tufts University's Center for Information and Research on Civic Learning and Engagement. As more of Gen Z reaches voting age, experts have advised candidates to change their strategies to appeal to new voters.
Read more here.
Tim Ryan, invoking attack on Paul Pelosi, urges Ohio to reject extremism
COLUMBUS, Ohio — Rep. Tim Ryan, the Democratic Senate candidate in Ohio, invoked the recent brutal attack against House Speaker Nancy Pelosi's husband Saturday, urging voters gathered at a church here to reject political extremism and threats of violence.
"I just want to say that more than 200 or 300 times in the Bible, some version of this is said: 'Be not afraid,'" Ryan, who faces Republican J.D. Vance in Tuesday's election, told the audience.
"Be not afraid," Ryan added. "This moment is calling for absolute fearlessness on behalf of Americans, on behalf of our kids and grandkids. You can't be afraid. No more fear. No more hate. No more anger. Love, fearlessness. We go to the polls fearlessly. We govern fearlessly, because they want to try to scare you. They want to try to scare us, right? We see this level of political violence happening now, against a third-ranking constitutional officer in the country."
Saturday's "souls to the polls" event was hosted by Rep. Joyce Beatty, D-Ohio, who chairs the Congressional Black Caucus. Such rallies are common for Democrats in the final days of an election, a get-out-the-vote tactic to drive early Black voter turnout in large cities.
Reps. Brenda Lawrence, D-Mich., and Mondaire Jones, D-N.Y., were on hand to rally a crowd of about 200.
"We don't need a venture capitalist who's not even from Ohio, who takes his orders from people like Peter Thiel and Mitch McConnell," said Jones, referring to the tech entrepreneur and the Senate GOP leader who have boosted Vance financially. "We see where that's gotten us before."
Most recent polling in Ohio has shown a close race, within the margins of error, between Ryan and Vance, a venture capitalist and the author of "Hillbilly Elegy," but one poll released Friday by Emerson College found Vance with a more decisive lead.
Manchin says Biden should apologize for 'outrageous' comments about coal plants
Sen. Joe Manchin, D-WV., on Saturday blasted President Joe Biden over "outrageous" comments he made about shutting down coal plants across the country.
In California on Friday, Biden said, "We're going to be shutting these plants down all across America and having wind and solar" as he touted the CHIPS Act. He was joined during the stop in Carlsbad by Rep. Mike Levin, D-Calif., who is locked in a tough re-election battle against Republican Brian Maryott.
"Biden's comments are not only outrageous and divorced from reality, they ignore the severe economic pain the American people are feeling because of rising energy costs," Manchin said in a statement. "Being cavalier about the loss of coal jobs for men and women in West Virginia and across the country who literally put their lives on the line to help build and power this country is offensive and disgusting."
Biden, Manchin continued, owes coal plant workers an "immediate and public apology" and must "learn a lesson that his words matter and have consequences."
In a statement shared later Saturday, the White House said that Biden's coal remarks have been "twisted to suggest a meaning that was not intended" and "he regrets it if anyone hearing these remarks took offense."
"The President was commenting on a fact of economics and technology: as it has been from its earliest days as an energy superpower, America is once again in the midst of an energy transition," the statement read.
Biden has worked closely with Manchin to help lower West Virginia's unemployment rate and has initiated plans that "are already bringing new energy and manufacturing jobs to the region," it added. "He is determined to make sure that this transition helps all Americans in all parts of the country, with more jobs and better opportunities."
How TikTok's moderators are stopping disinformation on the app ahead of midterms
In Illinois, Biden takes aim at Republicans on health care
President Joe Biden delivered remarks in Joliet, Illinois, Saturday, emphasizing the importance of Medicare and Social Security and taking aim at congressional Republicans.
Biden highlighted his administration's passing of the Inflation Reduction Act, which aims to lower the cost of prescription drugs, and said congressional Republicans want to repeal it as well as do away with federal health insurance programs including Medicare and Social Security.
"You've been paying into this your whole life," he said. "Now these guys want to take it away. Who in the hell do they think they are?"
Their efforts could cost million of Americans health care coverage, benefits and protections, which would amount to a win for Big Pharma, Biden said.
Obama rallies with Fetterman and down-ballot Democrats in Pittsburgh
PITTSBURGH, Pa. — Former President Barack Obama on Saturday fired up a crowd of thousands at the University of Pittsburgh's campus as he rallied with Democratic Senate nominee John Fetterman and down-ballot candidates.
"Who will fight for you?" Obama asked the crowd. "That's the choice in this election."
Fetterman and Republican Mehmet Oz are locked in one of the most critical Senate battles in the country this cycle. Obama said Republicans have no real solutions to pressing economic and social issues, while condemning them for flouting democratic standards after 2020. He said the GOP are obsessed with two things: "Own the libs" and gain approval from former President Donald Trump.
Obama also hit Oz for his career as a celebrity television doctor and for promoting unproven treatments and remedies. "It's easy to joke about Dr. Oz," he said, adding that "if someone is willing to peddle snake oil to make a buck, then he's probably willing to peddle snake oil" to win an election.
Fetterman, as well as local Democratic congressional nominees Chris Deluzio and Summer Lee, addressed the rally first. With Oz is set to campaign with Trump later Saturday, Fetterman told the crowd he's proud to rally with a former president who is "100% sedition free."
"Pro tip: If you're giving a speech after recovering from a stroke, you really don't want to come before Barack Obama," he joked.
In her speech, Lee said: "Our challenge in these next three days and beyond is to push back on people who would drive wedges between us."
Jill Biden to speak at get-out-the-vote events in Texas on Sunday
First lady Jill Biden is scheduled to travel to Texas on Sunday to deliver remarks at churches in Houston aimed at encouraging eligible voters to cast their ballots.
She is also slated to speak at a political events alongside Harris County Judge Lina Hidalgo, who is seeking re-election.
Key races in Texas include a battle between GOP Gov. Greg Abbott and Democratic challenger Beto O'Rourke. For state attorney general, Ken Paxton is attempting to fend off Democrat Rochelle Garza.
Asian Americans have some of the highest levels of support for abortion rights — and it's driving them to vote
As she prepares to vote for the first time, Nirmala Singh says she can still feel the trauma of gender-based violence that's been rippling through her life since childhood. When she was 5 years old and living in Guyana, her aunt was murdered by a former intimate partner. Moving to the U.S. as a teenager, Singh was surprised to see the same problems from back home reflected in the country she had once viewed as holding the promise for a better life. 
Now 26, she's watched for years as other immigrant women in her Queens neighborhood of New York — some who share her Indo-Caribbean identity — die in similar circumstances. A lack of access to reproductive care is one of the biggest holes she sees. Singh got her U.S. citizenship this year, and she's using it to cast her first ballot. 
"When Roe v. Wade was overturned, I remember you could hear this eerie silence for women, especially immigrant women, across the United States," said Singh, who works with the South Queens Women's March. "I'm worried that we're not going to have the same freedom, the same access that we did before — that these services will be taken away. So that's what's really driving me to the polls." 
Health care is the top priority Asian American voters are taking to the ballot box, according to the 2022 Asian American Voter Survey; experts say a big reason for that is the overturning of of Roe v. Wade and the mounting restrictions on reproductive rights across the country. With studies finding that Asian American and Pacific Islanders show some of the highest levels of support for abortion rights, community leaders are expecting this issue to drive Asian Americans to the polls — many for the first time ever.
Read more here.
GOP Rep. Liz Cheney endorses Democrat Abigail Spanberger
Rep. Liz Cheney, R-Wyo., has crossed party lines to endorse Rep. Abigail Spanberger, D-Va., in her tough re-election race against Trump-backed Republican challenger Yesli Vega.
In a statement to NBC News, Cheney said, "I have worked closely with her in Congress, and I know that she is dedicated to working across the aisle to find solutions. We don't agree on every policy, but I am absolutely certain that Abigail is dedicated to serving this country and her constituents and defending our Constitution."
Cheney also criticized Vega as a candidate who is "promoting conspiracy theories, denying election outcomes she disagrees with, and defending the indefensible." She added, "We need our elected leaders to be honest, serious, and responsible, which is why I would urge voters in Virginia's 7th District to support Abigail Spanberger."
Spanberger is the third Democratic lawmaker that Cheney has supported in the midterm election cycle.
Biden, Obama speaking often ahead of first and only joint midterm rally: sources
Former President Barack Obama and President Joe Biden have been regularly checking in with each other by phone to swap information on key races they're concerned about across the country, according to sources close to both men ahead of their first and only joint appearance on the campaign trail Saturday.
The pair will headline a rally for Pennsylvania Democrats in Philadelphia.
In one conversation this week, they focused on the difficulty in messaging around what most polls have shown to be the top campaign issue — inflation — and how to balance an acknowledgment of the pain Americans feel while still promoting Democrats' legislative accomplishments, according to a source present for the call.
After taking part in separate events Saturday morning, the joint appearance is intended to be a show of force in what the White House has long seen as the most critical battleground in efforts to hold control of the Senate. Biden has visited Pennsylvania more times — 18 — since taking office than any other state for both official and political events. And it'll be the last of seven campaign rallies Obama has headlined in the run-up to Election Day, the second in the Keystone State.
The movement to ban TikTok: What the midterms could mean for the future of the app
The effort to ban TikTok is back, and it could gain more strength after the midterm elections. 
Former Trump administration officials, a communications regulator, conservative commentators and several Republican lawmakers have been working in recent months to revive the Trump-era movement to ban TikTok, or at least to force a spinoff of the video app from its Chinese parent company. 
The suggestion that TikTok might disappear from app stores or stop working on U.S. phones might seem absurd to the millions of people who turn to it as a source of entertainment and information. But critics have never given up the idea of banning it, and some consider it a piece of unfinished business from when then-President Donald Trump tried and failed to ban downloads of TikTok in 2020.
TikTok's critics say they fear that Americans' data is ending up in the hands of the Chinese government and that Chinese authorities are determining what Americans see on a major media platform — concerns that TikTok says are unfounded.
Read more here.
Midterm campaigns are focusing on crime and bail reform. What are the facts?
Sen. Josh Hawley surprises crowd at Arizona GOP rally
PHOENIX, Ariz. — U.S Sen. Josh Hawley, from Missouri, surprised a large, boisterous crowd of Republican voters outside Phoenix Friday night, injecting a national boost to tight races that pit Donald Trump-endorsed candidates against Democrats backed by the Biden administration and party leadership.
Hawley, an avowed election denier, spoke ahead of Blake Masters, who is running against sitting U.S. Sen. Mark Kelly, and Kari Lake, the bombastic Republican gubernatorial candidate that recently made light of the attack on Nancy Pelosi's husband. 
Joining them were Abe Hamadeh, who is running for state attorney general, and Mark Finchem, who is seeking to replace Democrat Katie Hobbs for secretary of state. Hobbs is running against Lake for the governor's mansion.
"Democrats just don't get America," Hawley said to thunderous applause.
"They think this country is systemically racist, they think this country is oppressive … they think something is fundamentally broken," Hawley added. "I have news for them — there is nothing wrong with America. There is something wrong with them."
The Republican candidates took turns bashing everyone from President Joe Biden to Nancy Pelosi and other party elites.
"Yesterday was a pinch me day. Guess who came out and attacked me? Barack Obama," Lake said, referring to the former president's speech earlier this week.
On Wednesday, Obama appeared alongside Hobbs and Kelly at a rally in Phoenix. He roasted roasted Lake for peddling election conspiracy theories and said she is not qualified for office.
Just two days later, Hawley's cameo at a GOP event galvanized an already energetic crowd Friday night, many of whom wore Trump hats and chanted "lock her up" at a passing mention of Hillary Clinton. 
Masters told supporters they "are the red wave" in the upcoming election. 
"You are the tip of the spear," he said. 
Biden and Obama to make rare appearance together at Philadelphia rally
President Joe Biden and former President Barack Obama are slated to rally voters at a campaign event Saturday in Philadelphia for Pennsylvania Democrats. It will be their only joint appearance on the 2022 campaign trail.
Biden and Obama are aiming to boost turnout for Democrat John Fetterman, who is in a tight Senate race with Republican Mehmet Oz, and Josh Shapiro, who faces far-right GOP candidate Doug Mastriano.
Pennsylvania will be the final stop on Biden's four-state campaign swing that included New Mexico, California and Illinois. 
Biden told reporters Friday that he thinks Democrats will pick up a seat in the evenly divided Senate in Tuesday's midterm elections. The closely watched Pennsylvania Senate race is one of handful in battleground states that could determine which party controls the Senate.
Highlights from Friday
Just catching up? Here's what you missed on Friday.
President Joe Biden said he thinks Democrats will pick up a seat in the evenly divided Senate and keep control of the House. He later warned that "if we lose the House and Senate, it's going to be a horrible two years. The good news is that I'll have the veto pen."
House Speaker Nancy Pelosi, who returned to San Francisco to be with her husband after he was brutally attacked at their home last week, told supporters in a video that Paul Pelosi's recovery would be a "long haul," but that he would be well.
The Milwaukee County district attorney filed a criminal complaint against Kimberly Zapata, the former deputy director of the Milwaukee Election Commission who was fired this week following accusations that she fraudulently requested absentee ballots to be sent to a state representative.

Credit: Source link