So can you just get lucky and make a fortune? "Actually, there is no shortcut to putting the work in. Yes, you can get lucky, but the odds are not in your favour."
Cowin is proud of his successes and as we glance at the vast set menu, he sums up what he has learnt from more than 50 years doing business in Australia.
Rule number one: "Make certain you stay in business and survive any downturns," he says. Number two: "Always remember life and business both go in cycles. What goes up also goes down. The sun always will come up in the morning. When we have dark days, it's not total darkness forever." Number three: "There are also real opportunities at times like we are heading into now, when the economy is down. The old adages still ring true. Buy low, sell high. Get out when it becomes fashionable for all and sundry to enter the market."
It's time to order. Cowin starts with scallops, while I opt for coral trout. We both choose Cone Bay barramundi for our mains with seasonal vegetables to share.
Cowin is not a man to sit back and enjoy the fruit of his labours. "Every day still excites me," he says. "If you look at sport, you see life: you get knocked down, you have to get up. That's life. Playing on a team teaches you about the strength of complementary skills. Key, is building a team of individuals with many skills different and better than your own.
"[You've] got to say to yourself, too, how can I maintain some control over the variables? Will everything work? No. Will people disappoint me? Yes. Some people wear blinkers thinking there is only one path to go on. Wrong. If it doesn't work, don't linger. Just work out what you can control in your life and don't worry about things you have no control over. Find out what you are good at and pursue it strongly."
On the subject of control, would he today take a punt on himself when he started out?
"It was a leap of faith by others," he says about when he started in business with 30 Canadian investors each lending him $10,000. That money funded the opening of his first 10 KFC restaurants in Perth. "To be honest, I probably wouldn't do that today. If a 25-year-old came into my office and said: 'Hey Jack, I have zero track record in running restaurants, let alone halfway across the world; no capital, no interest on your money, but I know if I buy these franchises, I can make it work big time. Would you please trust me, and lend me the money to make a dream into a reality?' Ha!"
Those early investors may have gambled on him, but it was a lucrative bet for them: the two remaining members of that group have a share of the business worth $40 million each from their original $10,000 loan with an equity kicker.
Cowin did it again in 1992, when he was part of a group that bought a 44 per cent share in Channel Ten, which was in receivership at the time. Five years later, his $4.5 million investment delivered a return of more than $70 million, when the TV station was floated.
So, is failure in business ever an option? "Everybody in business makes mistakes," Cowin says. "Misjudging what the opportunity is. Maybe the timing was wrong? Show me somebody who hasn't had a failure and I will show you somebody who didn't take a risk!"
How do you de-risk then? "Test, test, test! Also don't let your passion for an idea overrun you. I have seen guys' passion for a business blindside them. If you only have passion for an idea, it's bloody easy to get into trouble."
Dialling up a solution
Cowin mentions a hiccup in his own career. "I was a partner in a pizza business initially called Silvio's Dial a Pizza, which didn't work that well. We then merged with Domino's, and it was years before we could make that work, too. In fact, it was a visiting American who was with me when I visited a site in Newcastle who saw a big problem.
"He right away asked the manager, 'How many phone lines do you have here?' He said three. My associate looked at him and said, 'It won't cost you much more to put in 10, then you won't keep losing customers who don't wish to hang on the line with a busy signal in rush periods.' This was the breakthrough we needed for a high-volume mentality. Along with a growing home delivery, it changed everything for us."
As we get stuck into the main course, I ask about his thoughts on rising interest rates and inflation. He dismisses it with a wave. "There will probably be a recession but not a long one. Just a bump in the road, then we will go on. Besides, there are more opportunities when things aren't great out there.
"You have got to have a sense of when the next change will be to progress. Sniff out the next big opportunity. At 80, I am still looking for that every day. If you can't tell the difference between work and play, then you have found the right career. One you love. That's me."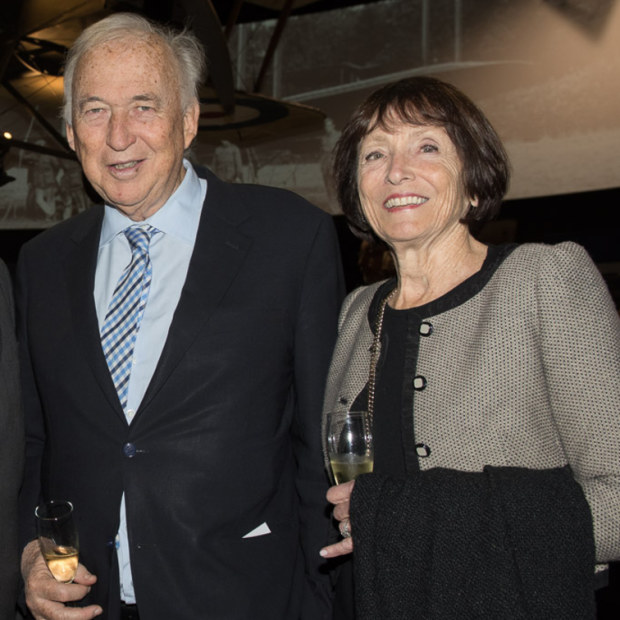 He says that he's still driven by curiosity. "My desk is full every day with the latest magazines and newspapers, as I can never read or learn enough. However, if I haven't got around to it in six months, then my wife comes in and chucks them."
Has he reduced his workload at all? Or doing what many men half his age are doing and working from home part or all the time? "Absolutely not," Cowin says. "I go to the office every day at the same time as I did for the past five decades. If you have an office, then go there. It's a form of discipline and creates in my view good work ethics and better communication with your staff."
Cowin doesn't expect his employees to be in the office every day. "A lot of my staff like to work in their PJs from their home," he says. "If that works for them, why not?"
As Cowin sips on a coffee, I ask him about his family. "I have four kids," he says. "One boy and three girls. The youngest is 42. The eldest is 54. I also have 12 grandchildren."
Was he a hands-on dad? His wife of 56 years, Sharon – they met when they were students at the University of Western Ontario in Canada – raised the kids and ran the house, he says. "I give the credit totally to her for the great job she did with our kids, who have all turned out well."
His secret to a long marriage
What's the secret to being married for so long? "Well, let me say from the outset, I am not a poster boy as the model husband," Cowin says. "One of the things I respect about my wife is, from day one, she generally accepted me for what I was and still am. She never wanted to try and change me, seriously smooth any of my rough edges off.
"We accepted each other, and still do, for what we are. Not for some vision that we wished to change the other one into, as so many marriages do; that can ultimately lead to a breakdown in the marriage.
"My wife is very self-sufficient, never the clingy or needy type. Over the years, as the kids grew up, she took up her own interests, separate to those we always shared together. She has a great talent for languages and has studied Japanese and Italian for the past 25 years or more, and I think that is great.
"I think tolerance and humour are also essential ingredients to making a marriage work. We are in many ways opposites, which is probably part of the success as well, but acknowledge and respect our differences."
Cowin says that while he has generally enjoyed good health, many of his friends have not been so lucky. Have these brushes with mortality set him thinking about a succession plan for his business?
"One of my 12 grandkids may come into the business," he says. "It's entirely up to them as I would never push them one way or another. Quite a few of them have done summer jobs with us, which is an encouraging sign. My son, who is a very successful money manager, also looks after many of our external investments, so I guess you could say he is involved in our business already but remains independent.
"I don't feel any obligation for any of the family to work directly in the business and welcome them to have the freedom of following their own interests and building their own self-esteem, whatever that might be."
So what does he do to unwind? "I love to read and catch up on everything and anything that comes in front of me. See my kids and the grandkids. For me, life is about the journey, not the destination. The secret of working life is finding what you enjoy, as work isn't work if you are having fun."
As Cowin walks away, I reflect on how he embodies the dream of self-made wealth and happiness, even though he is still pursuing that dream after 50 odd years.
The bill
Catalina, Lyne Park, New South Head Road, Rose Bay, Sydney
Sparkling water, $16
2 winter set menus: coral trout, pan-seared scallops, Cone Bay barramundi, apple tarte tatin, chocolate cremeux, espresso. $280
Total: $296
Credit: Source link