"Say, 'Titty city!'"
Michelle Elhai and her partner lift their legs and arms as the customer between them smiles and repeats as instructed. The man's friend snaps the photo of him with the marijuana-themed showgirls, who are equipped with nurse-like outfits, sparkly backpacks shaped like cannabis leaves and a three-foot inflatable blunt nicknamed "Jimothy."
For the final photo, the women turn around, hinge at the hips and start shaking their butts. 
"What happens in Vegas stays in Vegas!" they shout as the man, with their permission, lightly taps their behinds. 
He tips them $200.
It's not always that successful. Earlier in the day, a man flashed a $100 bill but only gave them $8. One of their first clients refused to pay even though the women made it clear up front — as they tell all their customers — that they pose for a "generous tip."
That's what it's all about: the tip. Their success partly comes down to the luck of the day and clientele, but also stems from experience, skill and an arsenal of trade secrets. 
"I'm not going to force anyone to give me a photo, but I'm going to strongly encourage it," Elhai, 20, said. "And I'm going to give, do everything I can to get as high of a tip as possible."
For her, that's $540. That record payment, which was split with her partner, came from a group of nerdy men whom Elhai joked had never touched a woman. On average she makes $1,000 for a four-hour shift and aims for $4,000 a week from showgirl photos. A showgirl in 2013 said the good performers make an average hourly wage of $20. Today, any "generous tip" under $20 is offensive to Elhai. 
After all, showgirls really aren't just selling photos — they're selling an experience.
The women who work with the agency Elhai runs, Picture Perfect Showgirls, are all high earners like her. The showgirls are self-employed and keep all of their tips, but they rent costumes from Elhai, work on a schedule she makes and benefit from the techniques she teaches. 
Jamie Pool, Elhai's partner that day, said most of the other 10 to 15 agencies are "showgirl factories" with a conveyor belt of performers. But Elhai's company is a "beast maker."
"It doesn't matter how you look. It doesn't matter what costume you have on. It matters how you work people," said Pool, 36, who's been a showgirl for five years at a variety of companies.  
And Elhai knows how to work people and build a team of showgirls who know how, too. 
Elhai graduated high school at 16. While attending community college in San Jose, California, she found that her minimum-wage job wasn't enough to build her savings or start investing. She began working higher-paying housekeeping and babysitting gigs. She quickly realized she could run a profitable company finding those jobs, scheduling other college-age students to work them and charging the workers a fee.
She wanted to create an app for the business. When she couldn't find someone to program the product, she learned how to code herself. She eventually moved on and became a software engineer at another company at age 17. 
Elhai got laid off during the pandemic. She moved to Las Vegas, started working on another business idea and turned to showgirling to fund it. She loved the money but thought she could run the business better. So she quit and worked independently for three months while she learned to make her own costumes for her own agency, which she's been running since last fall.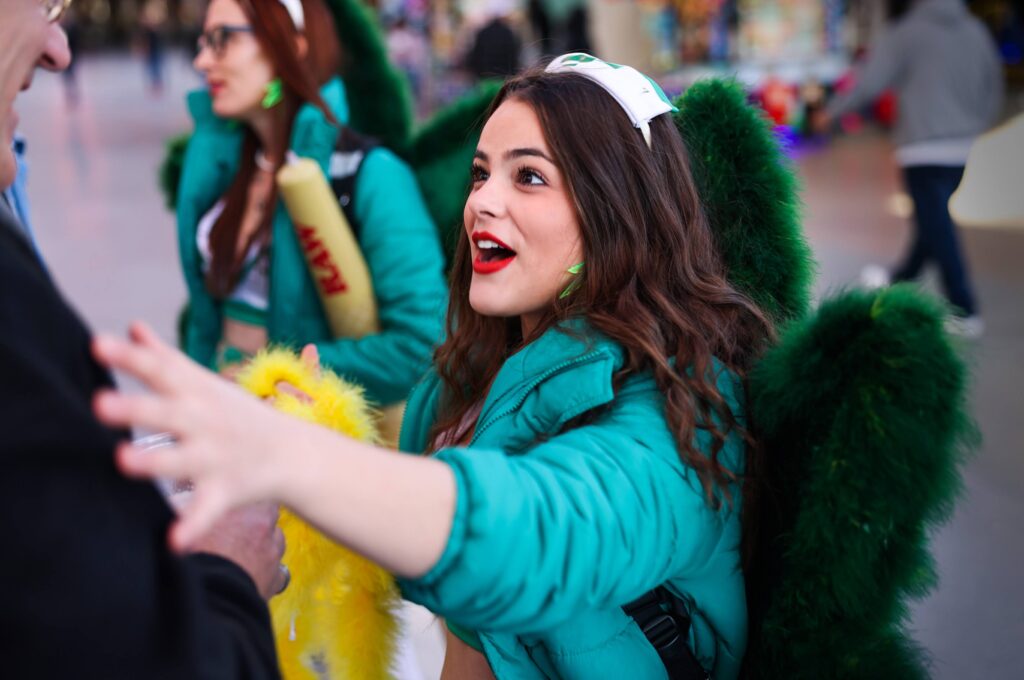 The original showgirls used to be the pride of casinos. A Vegas spinoff of a Parisian tradition, showgirls started to bejewel the Strip in the 1950s. They were classically trained dancers frosted with crystals and crowned with ostrich feathers. When they weren't onstage, they would grace the casino floor, keeping customers gambling their money away. 
It's unclear exactly when women started impersonating the dancers for photos with tourists. The last true show of these performers, "Jubilee!" at Bally's Las Vegas on the Strip, closed in 2016, well after their street-performing replicas started making money off their image. 
Although traditional showgirls were a highly regarded art form, the showgirls of today don't enjoy the same level of protection or respect. Their stages — Fremont Street and Strip sidewalks — can be dangerous. A stabbing on the Strip last month killed two people, including a showgirl. Tourists often tell them to "get a real job." But many showgirls see themselves as skilled business women who choose this work — and make a lot of money doing it.
"How would you feel if you were working your ass off at your job … and someone told you, 'You suck. You need to find a new job,'?" said Faith Loe, 20, a Picture Perfect showgirl and mother of two. "If your boss is like, 'You're not worth your pay. I'm going to cut your pay.' Like how would that make you feel?"
Sometimes that disrespect turns sexist, and they receive comments and looks that their male counterparts — Chippendales and shirtless cowboys —  don't seem to accrue. Passersby hurl words like "slut" and "whore" in their direction. People ask if their mother is ashamed of them. Women cover their husband's eyes as they walk past. 
They get used to it. 
"I know whatever they have to say to me is something someone else has already said to me before. And I didn't care then, so why should I care now?" said Amy Smith, 23, while doing her makeup. "They call me a whore. That's not true. I'm in a committed relationship for three years." 
"I'm a whore, but not like that," added one of the showgirls next to her, inciting laughter from the group getting ready for their shifts. 
"Not on the job," another clarified.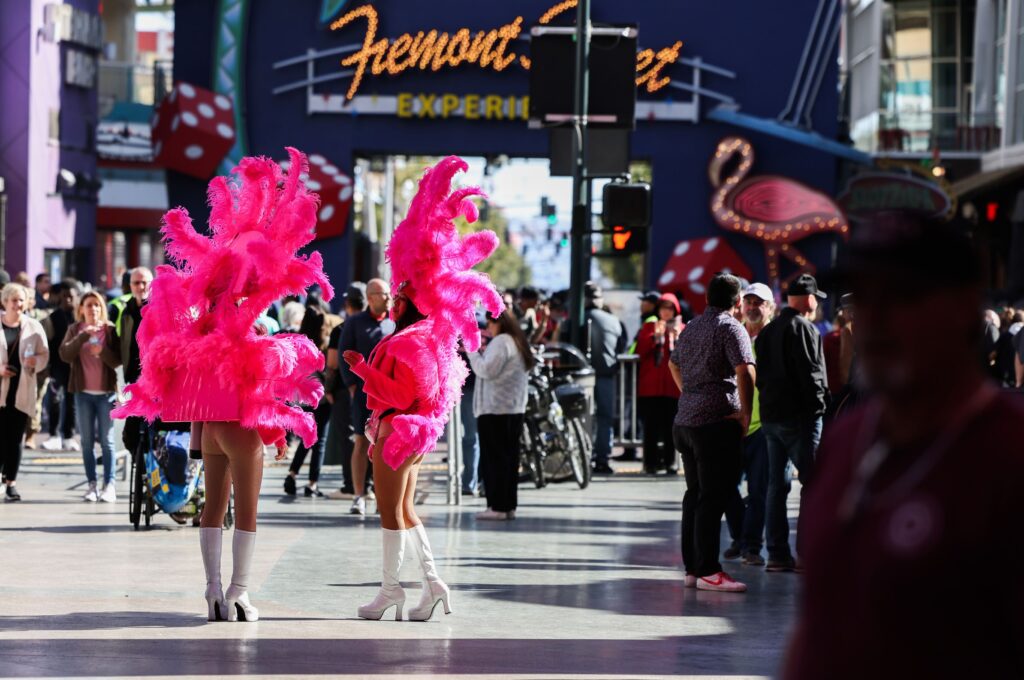 'We're going to hustle the shit out of you'
By 8:30 a.m. on Veterans Day, the first showgirl has arrived at Elhai's house. She's sitting in front of a mirror in the living room doing her makeup next to Elhai, who is a self-identified theater kid and playing the Hamilton soundtrack from her phone. 
Within the next hour, a dozen more showgirls descend on Elhai's home, which is just a 10-minute drive from both Fremont Street and the north end of the Strip. They do their makeup and talk with their partner about what costume they want to wear that day and how they think their shift will go. Elhai's dog, Frankie, a Jack Russell and corgi mix, runs around, dodging Loe's efforts to get a beauty blender out of her mouth.
Eventually, they parade off in pairs, all wearing one of Elhai's custom costumes. A pair of costumes costs between $2,000 and $3,000 to make. When Elhai first started, it took her five months to make one set, which includes a backpiece, a headpiece, accessories and several coordinating outfits for each of the two showgirls. Now, it takes her two weeks if she's not showgirling and only focusing on the costumes. She even has a patent-pending design for her headpieces, which makes them more stable while keeping them lightweight and comfortable.
The weed-themed costumes Elhai and Pool are wearing today stand out among showgirls. A woman who used to work at Picture Perfect Showgirls once made a knockoff of the signature marijuana outfits. But Elhai said it didn't look nearly as good as hers. 
"Also, she doesn't know how to make money, so I'm not concerned about her," she said.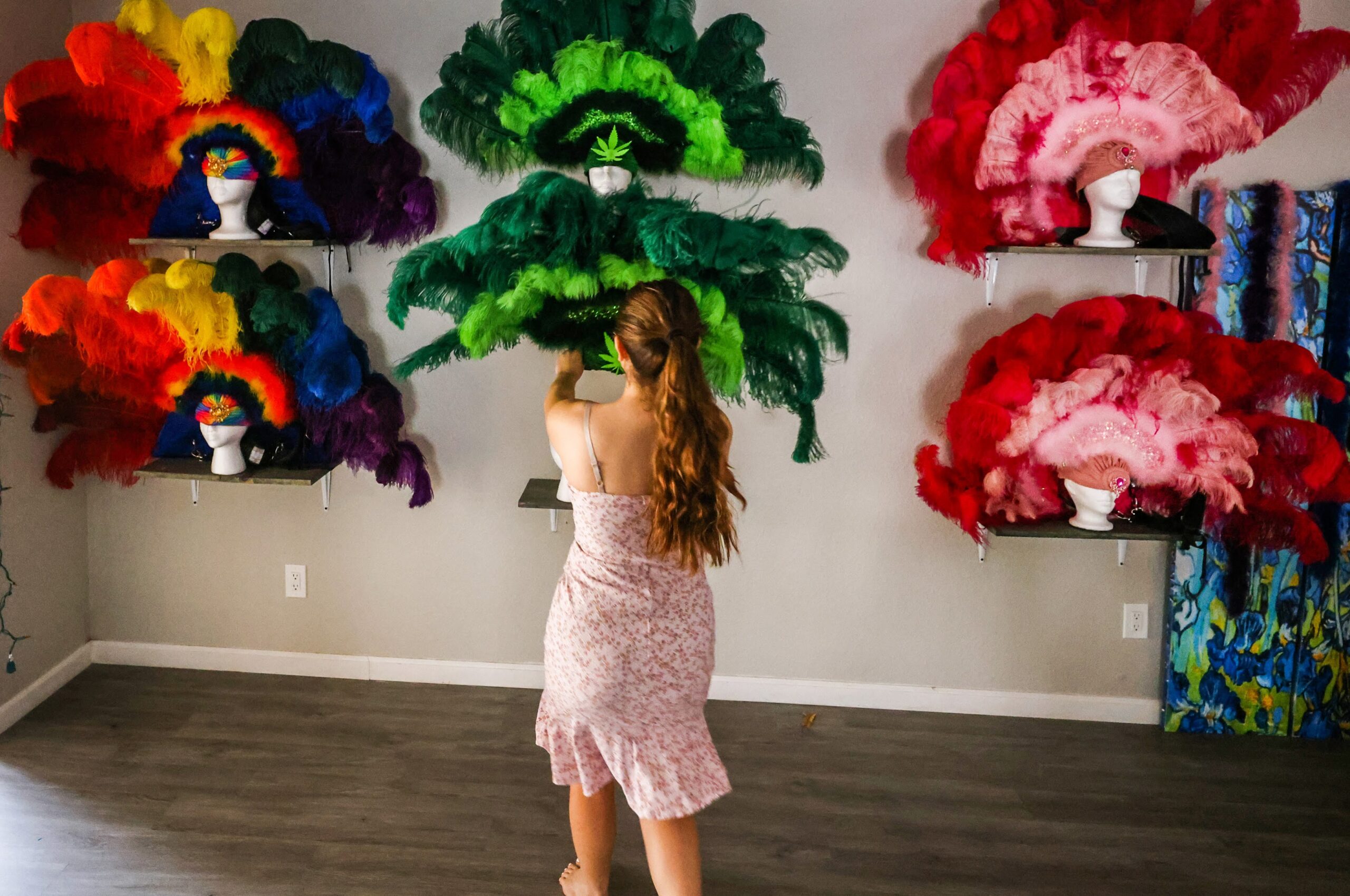 Elhai finds they guarantee the stoner demographic, who may not typically pose for photos. But even families like them. At parents' suggestion, she has stuck the "Jimothy" blunt inside of baby carriages. Several times.
Today, they're betting they'll be a hit with veterans at the parade along Fremont Street. 
When they arrive, a woman and her two sons almost immediately spot them and ask for a photo in the parking lot. She says she knows they pose for a tip, but after the photos only pulls out $2.  Elhai manages to get $20. When someone immediately offers a low tip, Elhai doesn't tell them the full amount of their typical payment to avoid scaring them off and risk getting nothing.
It's an example of seemingly small but critical problem-solving a showgirl has to use every second she works to get the most out of an interaction.
For the rest of the day, Elhai and Pool zig-zag the corridor, knowing when to split up and come back together to maximize the number of photo opportunities. 
The key to the job, Pool said, is getting people to stop. 
They try to rope potential clients into a conversation with a compliment ("Hey handsome!"), a trusty zinger ("I didn't know the sexy lady convention was in town today!"), a superficial and potentially fake shared interest ("Gotta love those Bruins!") or absolutely anything. "A good knowledge of all types of bullshit" helps, Pool said. 
The showgirls run the conversation with a list of strategic comments and questions, perhaps most importantly where a customer is from — locals are usually a lost cause — and how many times they've visited.
"If you're a first timer, you're fucked," Elhai said. "We're gonna get them."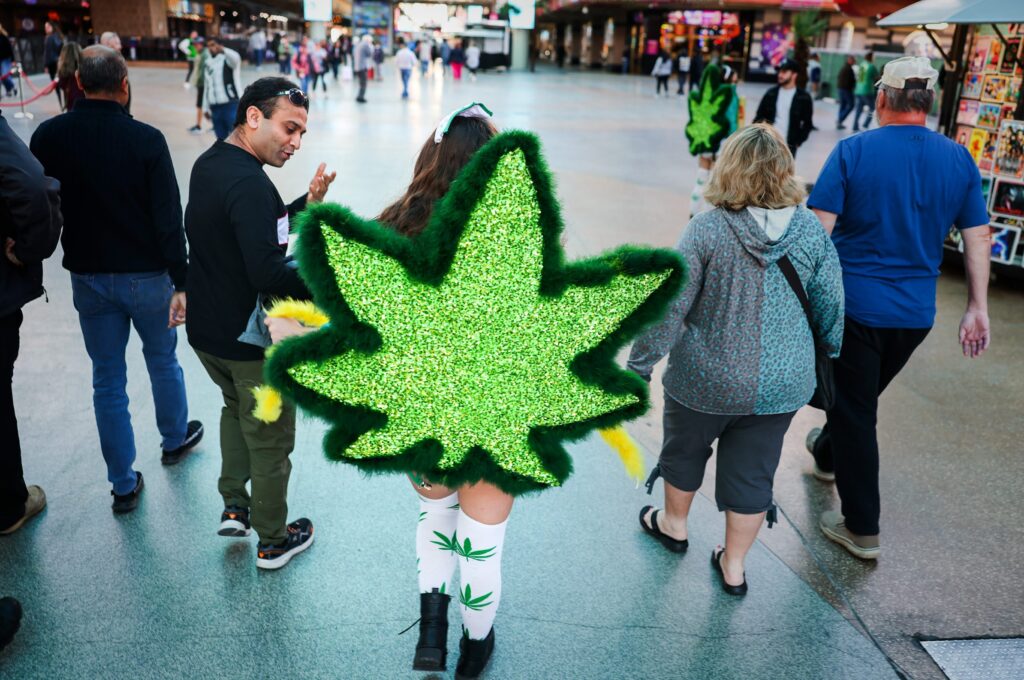 Like everything else, getting the photo is tricky. Even the smallest change in technique can make or break a customer's split-second decision to take a photo. For example, asking for a photo may have a different outcome than stating the photo as the next logical step to their conversation. 
After the photos, Elhai and Pool still have to get the tip. Showgirls and their street-performing competitors — Elvis impersonators, cop girls, acrobats and musicians, to name a few — can't force someone to give them a tip or even ask for a specific amount, but they can tell customers their average tip. Within those legal guidelines, they seek the highest tip possible. They'll let the biggest ballers put the cash in their bra or their waistband. 
Pool can tell instantly what kind of bills a customer is packing just by the edges poking out of their wallet. If she sees a $100 bill, she asks for it. 
"I have no shame about what I do. I'm really proud of what I do," Pool said.  "We're going to hustle the shit out of you. We're getting a photo, you're going to have a good time and you're going to give us a lot of money. I'm going to hustle you, but it's just a tip. It's up to you." 
On their first trip to the bathroom, they quickly counted all their big bills. They were at $1,000.
On another bathroom trip, they pass an elderly bodybuilder in a speedo, obviously there for a competition. Pool and Elhai stop to compliment his physique. 
"Do you want a photo with him?" a man with the bodybuilder asks. 
They start to walk away, eyes rolling, but Pool gives him one last glance. 
"Does he want a photo with me?"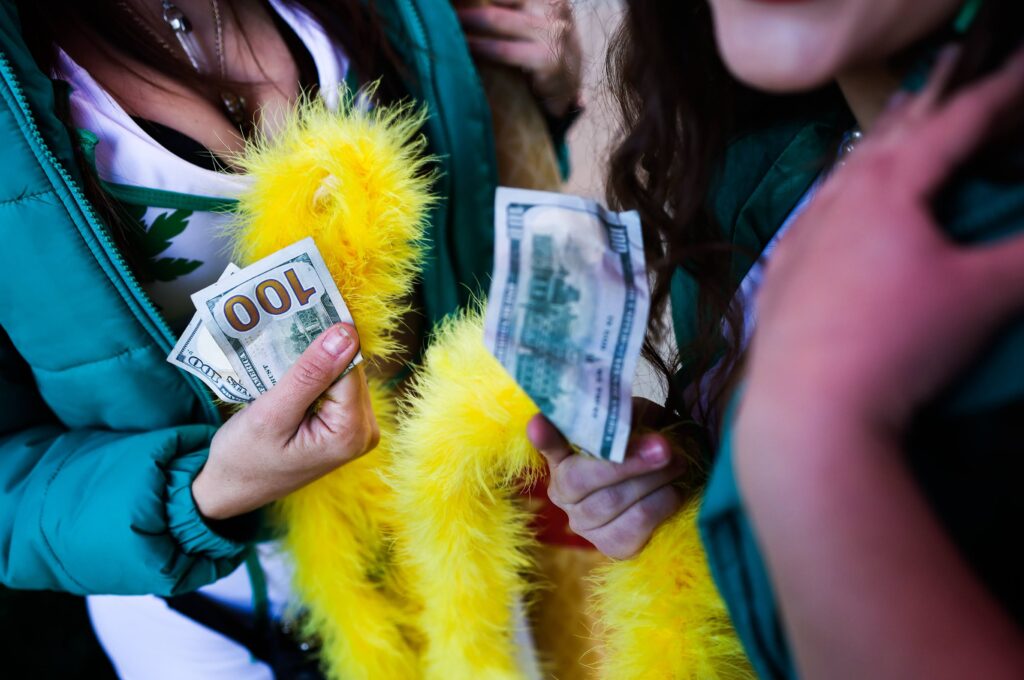 'A new standard'
The hustle doesn't sit well with everyone. 
One man paid for a photo with Pool and Elhai and appeared to have a good time. Then he tried to sabotage one of their later photos by yelling at the client that they would charge $100.  
Elhai can't diagnose people's problem with her job. She hustles. So what? What's wrong with that? If people don't want to be hustled, "Don't let me hustle you then," she said. 
"They have an opportunity to opt out. Every job is a hustle. Every sales job is a hustle. This is a sales job," she said.
Nia, who declined to give her last name, sees her work like any other tip-driven job. And after four years of showgirling, she knows how to give customers a good time and make a photo with her worth it or even a highlight of their vacation. She hates the characterization of showgirls as "scammers" or people who just "beg for money."
"I don't come out here and do my makeup and be on ten and with a great personality for people to think that way about us," said Nia, 24, who works independently of a company and has to supply her own costumes and manage her own schedule. 
One of Elhai's showgirls put it this way: "You try to be happy all day."
It's a job not everyone can do, the showgirls say. 
"Girls, they think, 'Oh, I'm just pretty. I just come here, I'm going to be waving and smiling and they will be throwing money on me.' That's not how it works, because you have to work for it," said Katie, 37, another independent showgirl who declined to give her last name. 
The idea of making $800 in four hours, which is Katie's shift average, is what typically pulls women into the career, she said. Many showgirls have origin stories of working minimum-wage jobs, meeting a showgirl who earns their monthly income in just one week of work and then joining the industry themselves.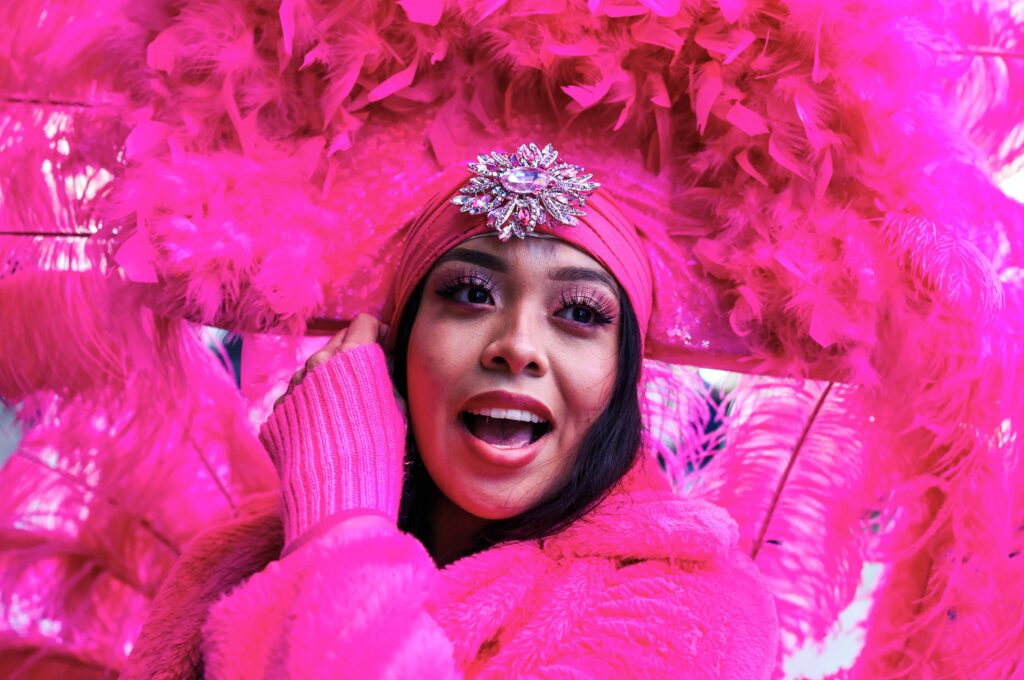 Now, the Strip and Fremont are a bit oversaturated with showgirls, said Katie, who's been in the industry for six years. But she and other high-earners say the extra showgirls don't affect their tips. The new girls often don't know how to work. 
It's a high-turnover industry and it's easy to lose money if you don't know what you're doing, Elhai said. Even the agencies that manage the showgirls are constantly rising and falling, some exist for mere months or fail to even get started once they realize how difficult and expensive it is to make costumes. 
Loe, a Picture Perfect showgirl who previously worked for another company, attributes this to agency owners not caring about how much money their showgirls make. She said some owners only care about receiving their flat fee for a costume rental, which is the model most agencies are moving to if they take a percentage of their showgirls' tips. That leaves workers improperly trained and dealing with the challenges of showgirling — without earning the good money. So the workers leave and the company crumbles. 
"The reason that this one is surviving is because we are the only company that is quality over quantity. We are churning out beasts," Elhai said. "One of the biggest problems in the industry is being paired with someone who is shit. Everyone here is not shit. They're at least good if not great." 
The women working with Picture Perfect Showgirls praised Elhai as a showgirl and an agency owner. 
"[Elhai] is genuinely the best showgirl any of us have ever worked with," said Smith, who has been working with Elhai for six months. "We've all, I think, made the most money here."
Elhai knows high profits will keep showgirls with her long term. That's why she's selective about who can join her. Out of the 10 to 20 applications she receives a week, she picks four or five to interview. She ultimately accepts only about 10 to 15 percent of the girls who make it through training. Elhai said she listens to her trainers' feedback completely when making her decision, which the Picture Perfect showgirls say is unique in the industry. She also cuts ties with showgirls who cause drama within the group or get into fights with customers or other performers.
Showgirling is almost all Elhai thinks about — how her showgirls can make more money, how she can expand into promotional modeling, what other companies are doing. She recruits at social events. At a party last month, she left her business card in the bathroom. 
"I can't just be the best — I have to set a new standard," Elhai said. "But that's always just been me."
At the end of their four-hour shift, Elhai and Pool made $2,500. It's not record-breaking for the company — that would be $3,600 — but it does put more than $1,000 in each woman's pocket. Another Picture Perfect pair on Fremont made $2,160.
A separate group on the Strip wasn't as fortunate. The showgirls found few people willing to pose for photos and encountered more rude comments and sexual harassment. They only made $662 — a little less than $300 each after paying their costume rental to Elhai.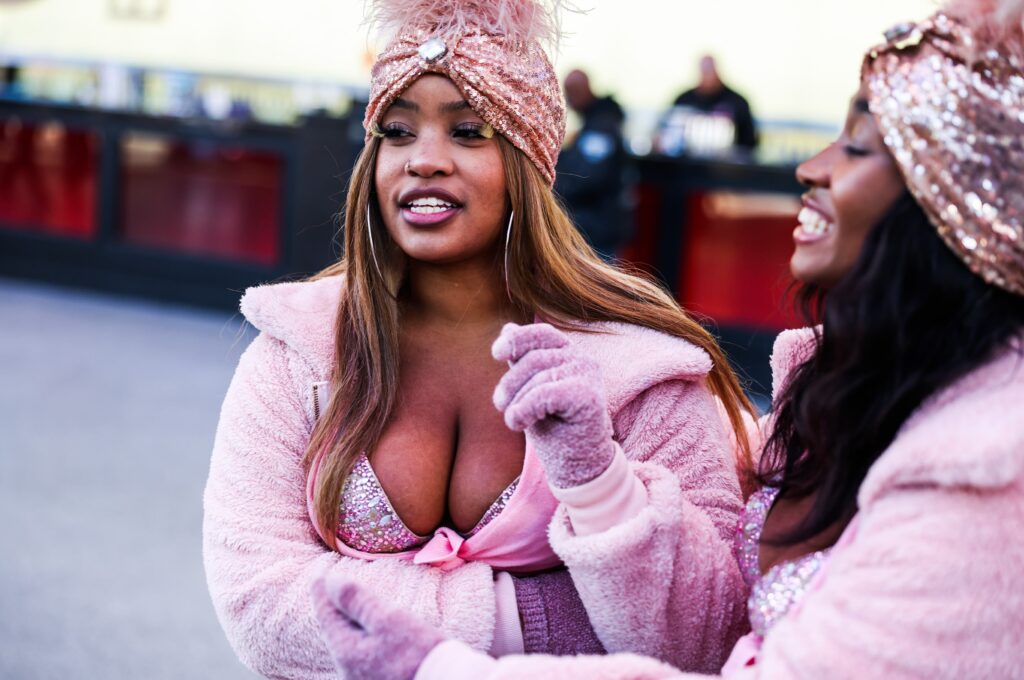 'We get to be in control'
One night in November, Smith was working when a woman walked by with a newborn baby and looked Smith and her partner up and down in disgust. Smith said they were covered from head to toe: boots, skin-toned leggings, fishnets, skirts, corsets, tops and puffer jackets.
Smith, who trains applicants for Picture Perfect Showgirls, still finds her job glamorous and fun, but wants people to know it's not all "rainbows and unicorns."
The stabbing on the Strip last month has made some in the business gravitate toward Fremont Street as a safer workplace. But Elhai and her showgirls see the tragedy as a one-off act of violence that ultimately isn't deterring them from going to work everyday. It did, however, prompt Elhai to provide her showgirls with pepper spray and tasers.
Smith said the showgirls don't get sexually harassassed or touched without their consent as much as people might think — a negative interaction may occur once every few weeks. Pool said only 2 percent of the client pool are "assholes that are memorable."
But when something does happen, Smith said some people have a victim-blaming mindset: They think showgirls should expect to be harassed or touched because of the outfit they're wearing or a pose they're doing.
Some showgirls give clients consent to touch them for certain poses — for example, holding their leg or lightly whipping their butt for the photo. 
"But that's our rules. That's our consent. That doesn't mean grab a handful of cheeks," Smith said. "We get to be in control."
It's control showgirls said they wouldn't get in most jobs, where they could be sexually harrassed or touched without their consent anyway. 
Before being a showgirl, Elhai worked in the tech industry where men constantly harassed her and she felt that she was never taken seriously. Though she still faces sexual harassment as a showgirl, she makes more money and has more power in the situation. 
"[Being] sexually harassed in a corporate environment is different because there's nothing I can do about it," she said. "On the Strip, I could walk away and leave and never talk to them again versus if someone's sexually harassing me in the office, I can't get away from them."
'I would not be where I'm at without it'
For Elhai, showgirling is not a forever job. 
She's an entrepreneur, and showgirling is just her current endeavor. She's using the experience to pay the bills, learn to sell anything to anyone and fund what she sees as her billion-dollar company reimagining portable weight-lifting kits. She's working on prototypes now.
Once that business takes off, she sees herself stepping away from Picture Perfect Showgirls and letting someone else manage it or selling it completely. 
Showgirling has different timelines for different girls. Anjele Sowerby, a showgirl with the Good Girls agency, is using the work to save money while she goes to nursing school. Katie wants to stop when she starts a family. Smith wants to do this as long as she can. 
For Pool, showgirling will be her last job. 
Pool said she made poor decisions her first four years in Las Vegas. She was almost ready to move back to Chicago and live with her mom when she found a showgirl ad on Craigslist. 
When she started the job, she was shy, introverted and awkward. 
"But when I put a costume on, I knew I could be somebody completely different," she said. "I became somebody completely different and made really good money very quickly. And eventually the outgoing, bubbly, friendly, talkative person I was on shift was who I became off shift."
Showgirling connected Pool to people she never would have met otherwise. Those connections have allowed her to invest in an ecommerce business and she plans to retire in two to three years. 
"I would not be where I'm at without it," Pool said. "And I would not be where I'm going without it."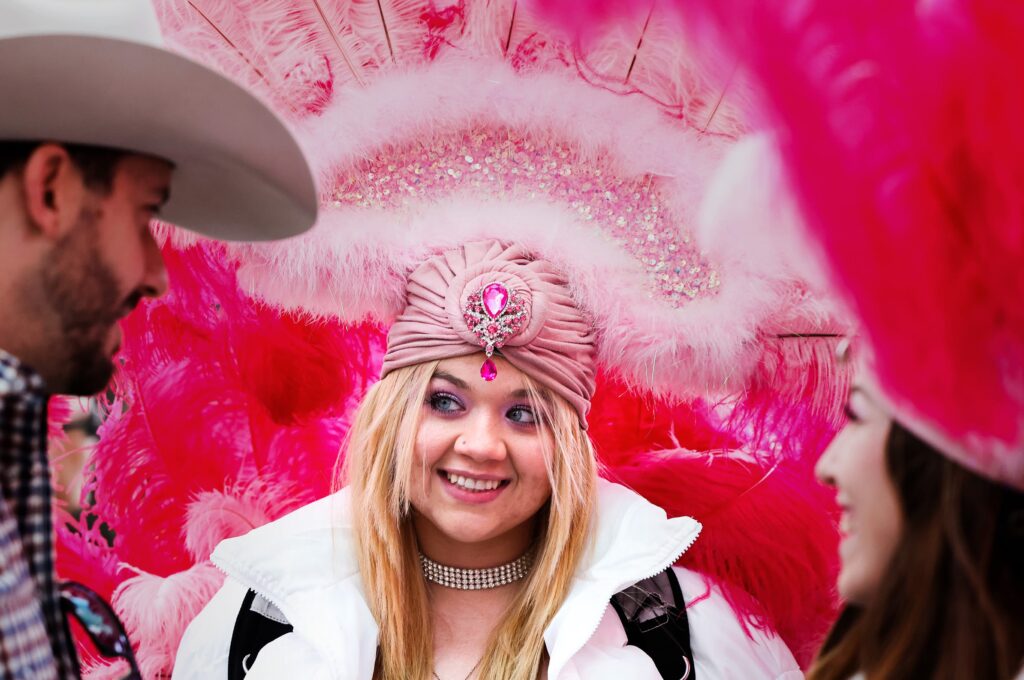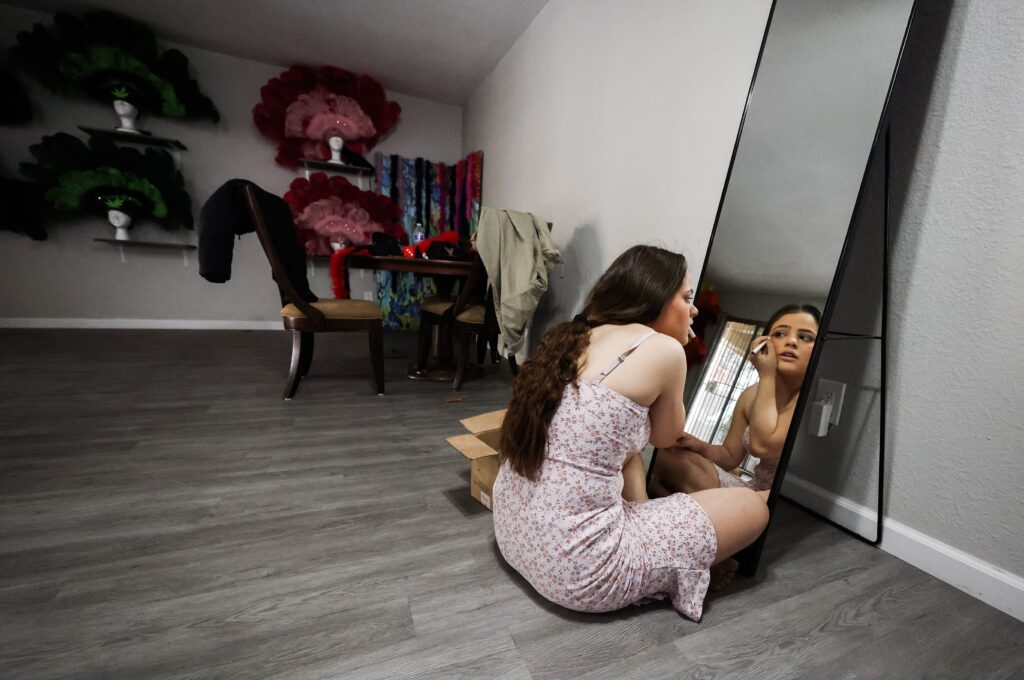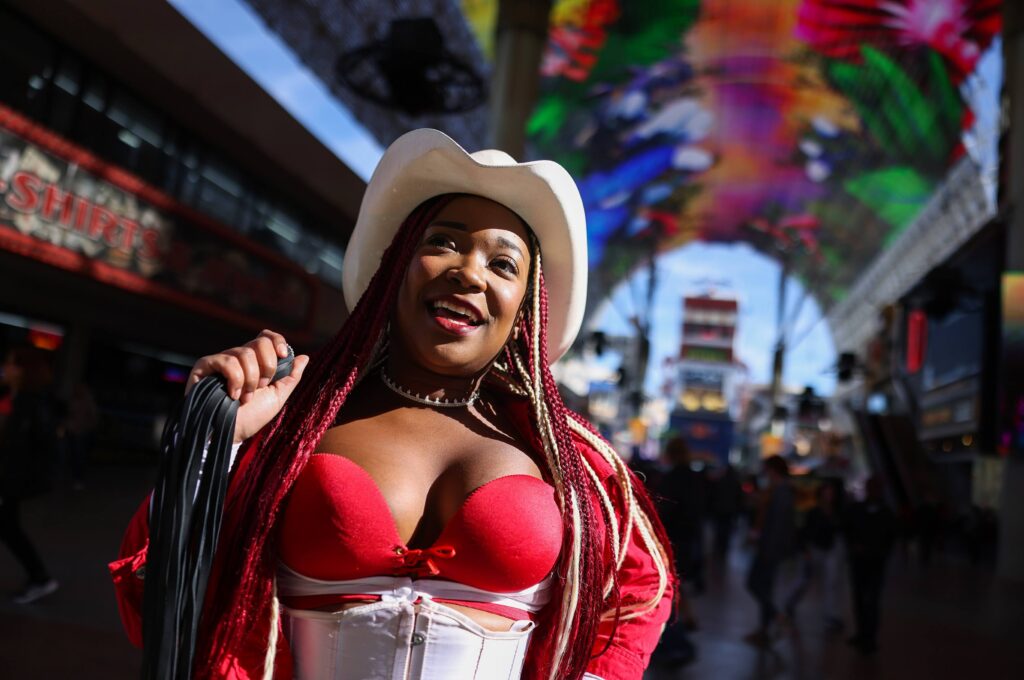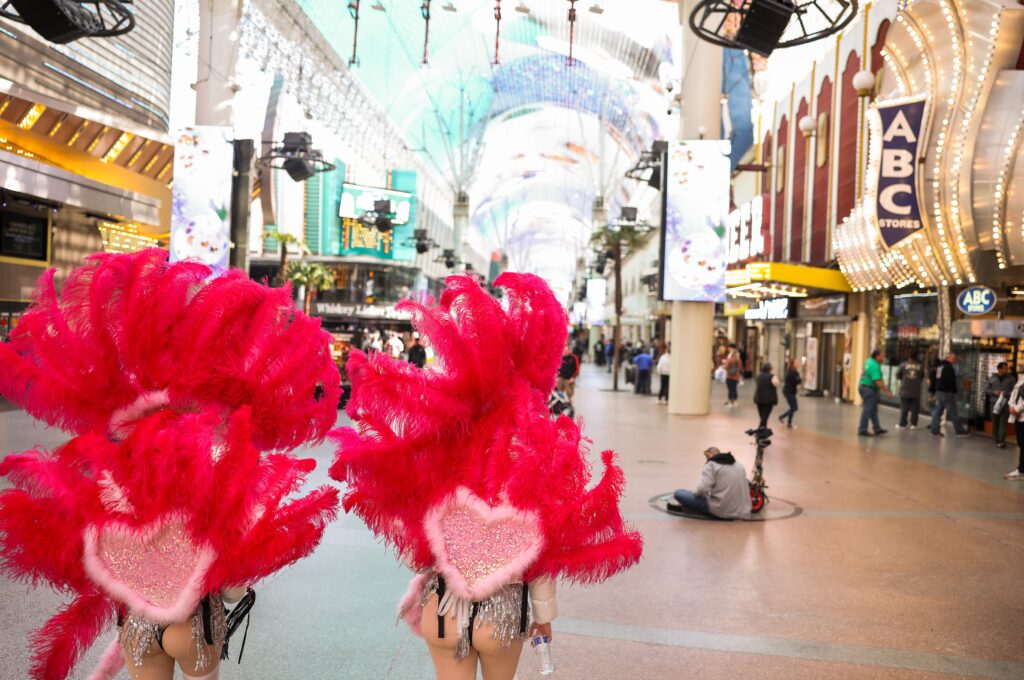 Credit: Source link