Sharon Lechter says her life changed when her son came home from college, at Christmas time, 1992 with credit card debt. "I didn't even know he had a credit card!" she tells RTÉ Lifestyle, at the 2022 Pendulum Summit in Dublin.
Having started her career as a Certified Public Accountant (CPA), she had spearheaded multiple businesses in the previous years, but this common misstep by her son triggered a career change.
She launched the Rich Dad book series, a branch of financial guides, before taking up the mantle as writer of new and revised Napoleon Hill books.
She says it was embracing the fear that helped her on her way. "It's that little voice in your head saying I'm not good enough, easy for her to say, I'm too old. You have to have the right associations, you have to take the right actions, you have to have confidence.
"Fear has always been the greatest inhibitor of success. There's types of fear", she says. "When Napoleon Hill wrote Outwitting the Devil in 1938 he talked a lot about fear of death. I don't think that's as pervasive a fear today because our standard of living and our average lifespan are much longer.
"I think that fear of criticism is much stronger today than it was back then. Social media impacts that. So while fear is ever-present, certain types of fear may be more prevalent today than then."
In Outwitting the Devil, Lechter outlines her seven steps to achieving financial success:
Knowing what your definite purpose is. "Mine is to elevate the financial wellbeing of humanity, that's in me today as it was back in 1992", she says.
Mastery over self, "having that self-discipline".
Learning from adversity.
Controlling your environment. "What are you letting into your brain? Who do you let in your life?"
Controlling your time. "Are you investing your time in what you want or are you spending your time? That's our only precious resource in life. We can make money, lose it, make it back but we can't make our time back."
Hypnotic rhythm. "If you're doing the first five it gets easier and easier because you establish that habit."
Caution. "Making sure that you pay attention to your thoughts, your words, your actions."
Lechter made waves by publishing a revised version of Hill's famed Think and Grow Rich, this time specifically geared towards women.
"Most of my career I resisted writing a book for women, because I said the steps to success are the same for men and women", she says. "I still believe that, but we react to them very differently. The original Think and Grow Rich was written in the 20s and 30s, released in 1937. [There were] very few women in business at that time.
The new book, Think and Grow Rich for Women, explores the concepts of Napoleon Hill through the eyes of successful women and how they used those concepts in creating their own success.
Lechter says there were two main reasons she wrote the book. "I was getting tired of the complaining and criticising women were doing. Complaining about the men who stood in their way, the men who held them back, and if you're a student of Napoleon Hill you'll know the law of attraction. In complaining and criticising, what are you attracting? Negativity."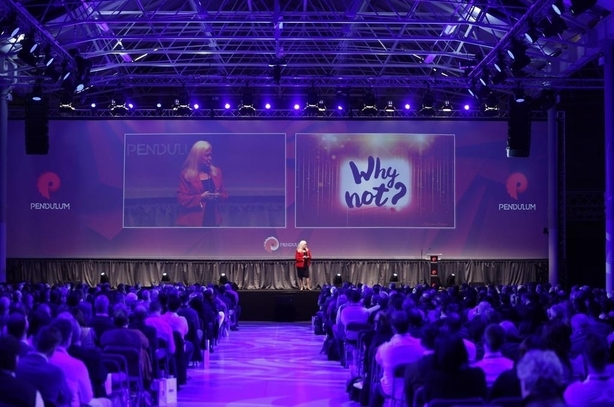 She adds: "We need to change the dialogue. Let's start celebrating each other, let's celebrate the progress we've made. Do we still have progress to make? Of course, but let's celebrate where we are and then let's celebrate the men who have helped us along the way.
As well as this, she says, "I was getting really tired of women complaining of work-life balance. You don't hear men complaining about that. Balance is not in the workplace. Women, we are never balanced. We're always moving. Maybe in the yoga studio the word 'balance' belongs.
"But we're more than just work and life, we have our faith, we have our family, we have our finances, we have our fitness. All those work together to create one, big life."
In her talks, Lechter is known for her point that "assets are sexy". She tells RTÉ Lifestyle that: "You're financially free when income from your assets exceed your monthly expenses. People focus on income, let's focus on assets that generate that income because it's like they become your employees.
"If you need extra income, don't get a second job, don't work overtime. Figure out how you can start making money on the side, make money on your own."

Credit: Source link