It was a day of inspiration and connection for the 300 attendees at the "Empowering Women to Lead" conference, hosted by the GFWC Nevis Women's Club.
The day-long event, held Sept. 16 in Walker, was designed "to provide support and encouragement for women to grow and achieve success throughout their personal and career journeys."
A succession of five speakers – especially polar explorer Ann Bancroft – offered uplifting life stories, along with vital tips to inspire women and connect them with resources.
In 1986, Bancroft was the first woman in history to cross the ice to the North Pole. She was the sole woman among seven men, including explorer Will Steger, and 49 male dogs pulling 1,500-pound sleds on the 1,000-mile expedition.
An author, educator, lecturer and explorer, Bancroft credits growing up in a rural family of "risk takers." Of her parents, she said, "They didn't clip my wings."
Among her many honors, she was inducted into the National Women's Hall of Fame for the United States in 2005. She lives in Minneapolis.
It's a common assumption that "you have to be big and burly" to succeed in the outdoors, said the diminutive 5-foot-4-inch adventurer. "Your attitude is everything in this environment," she said.
There were no cell phones or GPS at that time. They traveled by sextant, sun, wind direction or by compass, when it worked. Temperatures were often 75-below zero.
Bancroft then led an all-female team to the South Pole in 1992-93, becoming the first female to reach both poles. Harnessed to 250-pound sleds, the women traveled on skis 14 hours a day. They slogged from sea level to nearly 14,000 feet.
Not one corporation would bank the team, Bancroft said. "We are the first expedition in history, I've been told by other polar explorers, all men, that we were the first to get to Antarctica and to the South Pole on a grassroots movement."
They funded the trip by selling cookies, having garage sales, collecting pennies from school kids and receiving individual donations.
In 2001, Bancroft again made history by being the first woman, along with Norwegian explorer Liv Arnesen, to cross Antarctica. More than 3 million school children around the world followed their 100-day trek.
"Dreams are not easily achieved," she said, adding that frustration and despair should be part of the narrative to kids, "so they are better equipped to take on the challenges of things that they want to achieve in their lives. It takes a lot of cooperation, a lot of help from others, a lot of mentorship, a lot of communication and a lot of perseverance."
It's important to have fun as well.
"I always try and keep that 8-year-old girl close to me – that childlike wonderment in everything that I experience and see," she said, "because that gives me energy and joy."
Too often, Bancroft concluded, people diminish themselves. "Risk is relative to the risk taker. We all have power when we are following some semblance of our passions and living out our potentials. When we do that, we are our best selves."
Teresa Kittridge is founder of 100 Rural Women (
www.100RuralWomen.org
), a nonpartisan organization which aims to serve rural women and to inspire leadership, create connections and support civic engagement.
The first 20 years of her career were spent serving as an elected officer of the Minnesota House of Representatives. After leaving the Legislature, she built the Washington, D.C. office of Rural Policy Research Institute and served as Director of National Policy Programs.
She urged women to have thick skin, but also create a circle of people who give honest appraisal. "Even at 66, I need mentors," Kittridge said.
Kittridge started 100 Rural Women because women are more collaborative leaders, changing the tenor of discussion.
"The only way I think we're going to get out of the polarization and divisiveness in our political culture is if more women get engaged," she said. "The hierarchical structure that has been in place for so long doesn't work any more. It's punitive. People bully."
Kittridge advocates for a "flat culture," where everyone has a voice. Relationships and finding connections results in change. "Negativity doesn't get you anywhere."
In the business realm, Kittridge said the majority of businesses started in rural areas are by women, even pre-COVID.
100 Rural Women provides startup information for women entrepreneurs.
"We all lead every day in different ways," Kittridge said, emphasizing that not only CEOs and politicians are leaders.
Nevada Littlewolf, a citizen of the Leech Lake nation, grew up in Virginia, Minn.
She's currently executive director of Our Children MN and campaign manager for the Page Amendment, a Minnesota state amendment to the Constitution to ensure quality, public education and child-centered learning.
She is board chair of the Women's Foundation of Minnesota, a 2016 Bush Fellow and MPA student at the Humphrey School of Public Affairs.
When she was growing up, Littlewolf only saw Indigenous people serving office on a tribal council.
After being urged to run for the Virginia City Council, Littlewolf served for 10 years. She was the only Anishinaabe ever elected to this council, in addition to being the youngest and only woman.
"You have to lead where you are," she said. "I think it's vitally important for women to have a voice at the table."
Mariah Prussia is owner and founder of MPX Fitness. She is a professional boxer, self-defense expert, and Fargo's first sanctioned professional female MMA fighter. She is a certified nutrition coach, personal trainer, reiki practitioner and fitness model as well as an adjunct professor at Minnesota State University-Moorhead.
Her motivational speaking centers on her trademark brand: "Define the fight."
As a survivor of domestic violence, Prussia emphasizes the importance of developing "a warrior mindset."
She encouraged everyone to define the "what" and "why" of the challenges they are facing.
She also called on four women at the conference to share how they want to make a positive impact on the world.
Prussia advised women to be clear about setting goals, offering suggestions for morning and evening rituals.
Panel of Nevis entrepreneurs
Tracy Ganley, Nancy Lewis and Debbie Center are all from Nevis.
Lewis operates T&M Express, which has over 40 employees. She said it's important to get involved in your local community in some way. "The complainers are all around. I just chose to be a doer instead."
Meanwhile, Center encouraged all to "listen to your passions."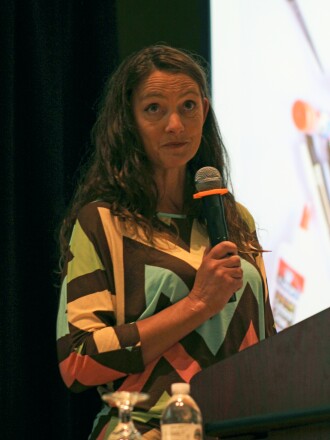 Ganley, who co-owns a family fishing resort and three businesses in Nevis, also founded 100 Women of the Heartland, which has donated over $30,000 to local nonprofit organizations. "There is definitely power in numbers, and it's very rewarding," she said.
Jodi Heilman, owner of Coach My Brand, a professional coaching and brand strategy firm located in Fargo, concluded the day.
In 2016, she stepped off the corporate ladder and into entrepreneurship, working with corporate decision-makers and individuals to strengthen their brands, build credibility and earn greater trust within teams or with customers.
She taught attendees how to create a vision board – a positive statement of goals built from words or photos taken from magazines. Citing the "law of attraction," Heilman said a vision board "begins with goals and intention."
window.fbAsyncInit = function() { FB.init({
appId : '313896693985010',
xfbml : true, version : 'v2.9' }); };
(function(d, s, id){ var js, fjs = d.getElementsByTagName(s)[0]; if (d.getElementById(id)) {return;} js = d.createElement(s); js.id = id; js.src = "https://connect.facebook.net/en_US/sdk.js"; fjs.parentNode.insertBefore(js, fjs); }(document, 'script', 'facebook-jssdk'));
Credit: Source link