23-year-old Aman Porwal, a resident of Indore, was always good in studies, but when he could not get admission in IIT due to only four marks, he was very sad. However, today he does not regret this, but says that whatever happened is good! Because if he had got admission in IIT at that time, he might not have been running a successful startup company like 'Momskart' today.
Aman, living in Indore, through his startup 'Momskart', is today providing IT services and business platforms to women across the country. This startup is a seller and user based platform from where you can buy local food items found across the country.
At the same time, through this startup, women making food items from home can become sellers and sell their products not only in their city but across the country.
Before starting this business, Aman worked on a variety of business ideas. Many times people called his ideas absolutely useless. But with the determination to fulfill the dream and the belief in his hard work, he has finally achieved success and today his turnover has reached in lakhs through his business which is just one year old.
Aman says, "I dreamed of building my own brand since childhood. Since childhood, I kept thinking about different jobs, but while studying in engineering college, I had made up my mind to start my own."
After not getting admission in IIT, Aman took admission in an engineering college in Indore itself. But instead of getting a job in a big company, his mind was focused on starting his own work.
Failed many times before startup
Aman says, "I always used to go to the startup summits at IIM Indore. I used to love seeing people pitching their startups on the big stage there that I also thought about pitching different business ideas on the same big stage in my mind."
Aman used to work on various startup ideas while studying in college. Along with studies, he started a college assignment business. Under this, by creating a Facebook page named 'Assignment Solution', he started writing assignments for those people who studied with a job in the final year and could not do their assignments on their own.
Although he had to listen to scolding in college for this, but it earned him good money and many people liked his idea very much. Thereafter, he was supported by one of his professors, Atul Sir in the college. Aman says, "Atul sir understood my mind and inspired me to work towards good business ideas."
After this, with the help of Atul sir, he started attending startup summits in different cities. During this time he also got a chance to present his startup in front of the people at IIM Bangalore.
He says, "I worked on the idea of ​​biodegradable baby diapers, but my English was not that good during that time. It was a big deal for me to share my business idea on such a big platform from above. I learned a lot from that place and came back with that learning."
business idea from mom's breakfast
Before completing his engineering studies, Aman had understood that he had to do business but there was no solid plan on which he could work seriously. Aman said, "When all my friends were thinking about jobs through campus placements, I was still thinking about startups.
I was beginning to feel that the time had come to focus on one idea. That's when I got a good business idea from my mother." Actually, Aman's mother used to make pickles at home and sell them to friends and relatives. Aman thought that why not take this work forward.
Then he created a page on Facebook named 'Mom Made Namkeen Wala' and started selling products not only of his mother but also of some other women running small business from home in the nearby area.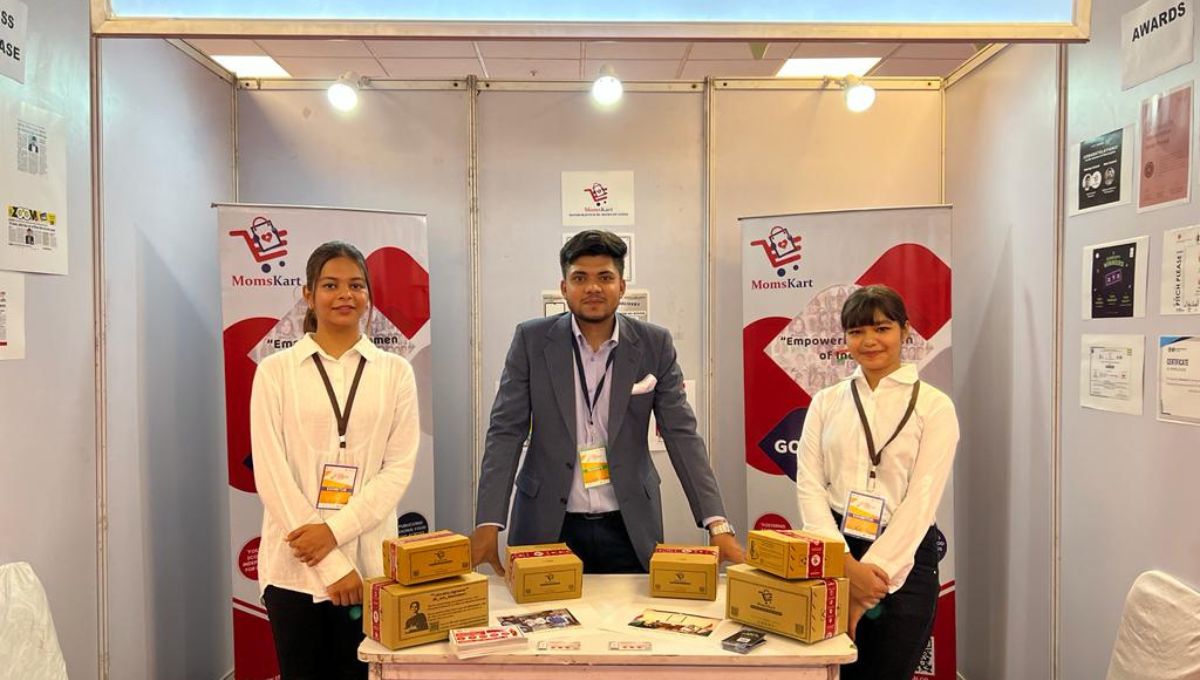 Started business with help from here and there
Aman continued to run 'Mom Made Namkeen Wala' along with studies but after the end of his studies in the year 2020, he decided to launch it as a startup and rebrand it. He created an app with the help of his friend Shubham Jain and registered the business with the help of money from his father's friend.
With this app, Aman connected many such women of Indore, who were working from home.
After the lockdown, the business got success
Aman started his app in the month of March of the year 2020, a few days after which there was a lockdown in the country. Aman says, "All my friends had jobs, they were doing work from home, but I was not able to do anything. My work had stopped before it even started. Still, I didn't lose hope during that time and focused on how to run my business."
Aman used to register his startups everywhere in online competitions, but his work was disliked everywhere. During the lockdown, he used the time to take several online courses and did good research on building supply chains across the country.
The turning point of Aman's life came when his idea got a prize of one lakh at a summit held at IIM Ahmedabad. After this his faith in his work increased further. He also got media coverage from many places.
Received award from IIT Kharagpur as well
After IIM Ahmedabad, Aman started pitching his idea to every reputed institute in the country; So that they can get more investment. Not only this, in 2021 he also received the Best Startup Award from IIT Kharagpur, after which he also went to the Dubai Expo.
In this way, the company also started getting some funds and in 2021 'Momskart' caught a good pace.
Today 1000 women of the country are selling their products on 'Momskart'. At the age of 23, Aman is earning a turnover of 25 lakhs through his startup. The story of Aman tells that if you believe in your dreams, then despite all the difficulties, success is definitely achieved.
Click here to contact Momskart.
Editing – Archana Dubey
Read also: Mother's learning came in trouble, Ansia's identity became natural skin care business
This post is sourced from newspapers, magazines and third-party websites. For more information please check NewsDay Express Disclaimer.
Credit: Source link