Whether the awards have an influence on the Oscar race has long been subject to debate. But there's no doubt that the Golden Globes, airing on network television in prime time, offer many viewers their first introduction to a number of the winners — whether it's arthouse films that haven't expanded nationwide or TV series on streaming platforms they may not subscribe to.
In that spirit, with the 2023 Golden Globes behind us, you may be poring over the winners list in search of new titles for your queue. Here's how to watch all of them.
'The Fabelmans'
Running time: 2 hours 31 minutes | Rating: PG-13 for some strong language, thematic elements, brief violence and drug use.
Streaming: Prime Video: Rent/Buy | Apple TV+: Rent/Buy
Best motion picture — drama
Director — motion picture: Steven Spielberg
More than once during his fabled career, Steven Spielberg has been dismissed as a technician masquerading as an artist; as the most popular of American filmmakers, the logic goes, he must also be the most impersonal. It's a judgment that doesn't quite explain the intensely personal connection a lot of us feel to his movies. Or does it? More than any other director, Spielberg confounds the notion that the personal and the popular, or the technician and the artist, are fundamentally at odds. The intensity of feeling you experienced on your first (or third) close encounter with a Spielberg classic — maybe you levitated out of your seat at "Raiders of the Lost Ark" or had your nerves shredded by "Jaws" — was likely so pure that it felt like yours and yours alone, never mind that millions of moviegoers around the world felt the same way.
Like all great storytellers, Spielberg knows the value — the beauty — of artifice and embellishment, as well as the permeability of truth and fiction. "The Fabelmans" is as slick, transporting and painstakingly orchestrated as anything in his filmography, and also as funny, stirring and implacably sad. What makes it personal isn't that you believe everything in it happened exactly as you see it. It's how vivid and enveloping it feels as it's happening in front of you, and how recognizable and bittersweet an ache it leaves behind. (Read more) — Justin Chang
'The Banshees of Inisherin'
Running time: 1 hour 49 minutes | Rating: R, for language throughout, some violent content and brief graphic nudity.
Streaming: Prime Video: Rent/Buy | Apple TV+: Rent/Buy | HBO Max: Included | Hulu: Included
Best motion picture — musical or comedy
Screenplay — motion picture: Martin McDonagh
Actor in a motion picture — musical or comedy: Colin Farrell
The year is 1923, and in the distance the Irish civil war is raging, providing some blunt yet hazy thematic scaffolding for this more intimate tale of men in conflict. The beauty of Inisherin will soon turn sour and corrosive, much like the once-harmonious friendship between Pádraic Súilleabháin (Colin Farrell), a sweet-souled dairy farmer, and Colm Doherty (Brendan Gleeson), a gruff, gimlet-eyed fiddle player. In the opening scene, Pádraic sets out to meet Colm for their usual afternoon pint, only to find the man sitting at home, his back to the window, quietly ignoring Pádraic's knocks and entreaties. Can a man scowl not just with his face but with his entire hulking frame? Somehow, Gleeson manages.
Bewildered by this silent treatment, Pádraic remains unperturbed — surely it must be some sort of joke or misunderstanding — and refuses to accept that the friendship is over, even after Colm later spells it out for him down at the pub: "I just don't like ya no more." After a pause that lasts a small eternity, Pádraic responds, with a mix of confusion, disbelief and heartache that Farrell plays to perfection: "Ya do like me!" And the funny thing is, he's right. (Read more) — Justin Chang
'House of the Dragon'
Scripted drama | Rating: TV-MA
Streaming: HBO Max: Included
Television series — drama
Let's start at the end. "Game of Thrones" was the television drama of the decade right up until its eighth and final season, when the HBO series' conclusion disappointed fans on a global scale. Despite all the dexterous villains, fierce emancipators, persevering women and supernatural surprises, it handed the crown to a boy who'd literally slept through much of the show's 73-episode run.
Thanks to that fizzling 2019 climax, prequel "House of the Dragon" premiered amid slightly lower expectations than it would have if "GoT" had nailed the landing. But with the arrival of the first episode, "The Heirs of the Dragon," the hope that a new series might recapture some of the power and grandeur of its predecessor no longer seems so fanciful.
Set 172 years before the death of the Mad King and the birth of Daenerys Targaryen, "House of the Dragon" immediately thrusts viewers into the familiar sights and sounds of the "Game of Thrones" universe: Flea Bottom and its brothels, dragons and their flames, the Red Keep and its Iron Throne. While honoring the legacy and look of the original series, the spinoff wisely adopts subtle changes in tone and approach while introducing a fresh world of characters and storylines. (Read more) — Lorraine Ali
'Abbott Elementary'
Scripted comedy | Rating: TV-PG
Streaming: HBO Max: Included | Hulu: Included
Television series — musical or comedy
Actress in a television series — musical or comedy: Quinta Brunson
Supporting actor — Musical-comedy or drama television series: Tyler James Williams
You can watch the delightful "Abbott Elementary" with your kids or your grandparents without embarrassment. Created by Quinta Brunson, one of the pillars of the first season of "A Black Lady Sketch Show," it stars Brunson as Janine Teagues, a teacher embarking on her second year at a Philadelphia elementary school, eager and optimistic despite practical hardships and how much she still has to learn about managing a classroom. "Look," she says in the pilot, "I know this school is rough, but I became a teacher to make sure students get out alive."
Presented mockumentary style, the series feels fresh even as it mines the familiar. As much as the characters represent an agglomeration of types, they are well written and the actors invest them with life. Surrounding Brunson are Sheryl Lee Ralph as a no-nonsense, 20-year veteran on whom Janine has a professional crush; Lisa Ann Walter, another old hand, as a South Philadelphia Italian with "connections"; Chris Perfetti as a fellow newish recruit, painfully conscious, when not conscious enough, of being a white teacher in a Black school; Tyler James Williams, who arrives in the pilot as a substitute and seems positioned as a romantic possibility for Janine (they meet cute over a malfunctioning toilet); and the quite hilarious Janelle James as the self-interested principal: "If you don't respect me," she tells her staff, "you don't respect this school… It's mathematically impossible." (Read more) — Robert Lloyd
'Yellowstone'
Scripted drama | Rating: TV-MA
Streaming: PeacockTV: Included
Actor in a television series, drama: Kevin Costner
"Yellowstone" is the latest in a long line of series about families with money, from "Dallas" to HBO's "Succession." They arrive regularly on our screens, with their biblical or Shakespearean overtones, to remind us not only that money can't buy happiness but likely will make you miserable.
Set in southwest Montana on "a ranch the size of Rhode Island" owned and operated by cattleman John Dutton (Kevin Costner), "Yellowstone" is also the umpteenth modern take on the classic Old West western. Here, as there, we find Native Americans having to deal with white settlers — some of them have been in the neighborhood a while, to be sure — but also older white settlers in conflict with newer white settlers.
In a John Wayne film, the newcomers might have been East Coast Mining Interests come to disturb the timeless life of the Ranchers; here they bring artisanal cocktails, craft ice cream, plans for subdivisions, and golf. There is sadness at the passing of the old ways and the coming of the new. (Read more) — Robert Lloyd
'The White Lotus'
Scripted drama | Rating: TV-MA
Streaming: HBO Max: Included
Limited series, anthology series or motion picture made for television
Supporting actress in a limited series, anthology series or motion picture made for television: Jennifer Coolidge
From the Lannisters to the Roys, rich people behaving badly is a sweet spot for HBO. In Season 1 of the satirical limited series "The White Lotus," that tradition is extended to an exclusive Hawaiian resort where a group of wealthy guests with ample baggage has turned paradise into a living hell, both for themselves and for the staff. The self-centered tourists include the dysfunctional Mossbacher family, led by tech mogul mom Nicole (Connie Britton). She's flanked by her powerless husband, Mark (Steve Zahn), aimless teen son Quinn (Fred Hechinger), sneering college student daughter Olivia (Sydney Sweeney) and Olivia's conflicted bestie, Paula (Brittany O'Grady). Arriving on the same boat are honeymooners Rachel (Alexandra Daddario) and Shane Patton (Jake Lacy), whose marriage is already showing signs of strain. Emotionally needy guest Tanya McQuoid (Jennifer Coolidge) is there to spread the ashes of her late mother, but so far she's spent her trip in the bar or the spa. Meanwhile, hotel manager Armond (Murray Bartlett), spa manager Belinda (Natasha Rothwell) and bellhop/luau performer Kai (Kekoa Kekumano) are losing their minds, dignity and freedom catering to the needs of their guests. But fun as it may be watching the wealthy eat themselves alive, these visitors are the invaders. The staff members are their unfortunate subjects. And colonization is a theme flicked at, including Native Hawaiians' economic and social inequality and the tourism industry's appropriation and destruction of native culture. (Read more) —Lorraine Ali
'Dahmer — Monster: The Jeffrey Dahmer Story'
Scripted docudrama | Rating: TV-MA
Streaming: Netflix: Included
Actor in a limited series, anthology series or television motion picture: Evan Peters
Ryan Murphy and Ian Brennan's "Dahmer — Monster: The Jeffrey Dahmer Story," starring Evan Peters as the notorious Milwaukee serial killer, broke Netflix's worldwide record for a series debut in its opening week, according to the streamer. But it sparked a controversy in the process.
Set off in a viral Twitter thread by Eric Perry, a relative of Dahmer victim Errol Lindsey, the series has been accused of profiting off of the trauma suffered by those Dahmer murdered — many LGBTQ+ people of color — and those who survive them.
Dahmer, who killed, dismembered and in some cases cannibalized 17 men and boys between the late 1970s and his capture in 1991, is just the latest in a string of serial killers to have their stories told, and retold, on the platform. (Read more) — Malik Peay
'The Dropout'
Scripted docudrama | Rating: TV-MA
Streaming: Hulu: Included
Actress in a limited series, anthology series or motion picture made for television: Amanda Seyfried

Liz Meriwether, the creator of "New Girl" and "Single Parents," became fascinated with Elizabeth Holmes in 2019, much like the rest of us. She remembers being drawn in by a Vanity Fair piece that detailed the Silicon Valley wunderkind's final months at her biotech company, Theranos, which promised to revolutionize blood testing but was ultimately consumed by fraud allegations. Intrigued by the dramatic story, she also listened to the ABC News podcast "The Dropout," which detailed Holmes' rise and fall.
In 2004, at 20, Holmes dropped out of Stanford University to launch the startup. At its peak in 2014, the company was valued at over $9 billion and Holmes was a darling of the New Yorker, Forbes and other outlets; by 2015, Holmes, then 31, was named the world's youngest self-made female billionaire by Forbes. Just months later, the Wall Street Journal exposed shortcomings in Theranos' technology, setting in motion the company's, and Holmes', staggering fall.
"The Dropout" is an eight-episode limited series, starring Amanda Seyfried as Holmes, that premiered on Hulu, two months after a jury found Holmes guilty of four counts of fraudulently deceiving investors. (Read more) — Yvonne Villarreal
'Black Bird'
Scripted drama| Rating: TV-MA
Streaming: Apple TV+: Rent/Buy
Supporting actor in a limited series, anthology series or motion picture made for television: Paul Walter Hauser
Every episode of "Black Bird" begins with the legend, "The following is inspired by a true story." Now, television shows inspired by true stories are a dime a dozen these days; the cachet attached to something that "really happened," if not exactly as represented by often very famous actors speaking invented dialogue, can be a valuable promotional tool. Audiences respond. Ergo the "true" in "true crime."
In this case, however, the notice feels almost necessary, given that the story seems a little nutty even once you've done enough research to verify the basic facts. Back in the 1990s, Jimmy Keene (Taron Egerton, musclebound and unrecognizable as the actor who was Elton John in "Rocketman"), serving a sentence for drug dealing, did go undercover in a prison for the criminally insane in an attempt to elicit incriminating information from suspected serial killer and convicted kidnapper Larry Hall (Paul Walter Hauser), with the promise that success would lead to his freedom. (Read more) — Robert Lloyd
'Argentina, 1985'
Running time: 2 hours 21 minutes | Rating: R, for language.
Streaming: Prime Video: Included
Motion picture — foreign language
Films about important historical moments are often marked by a heavy solemnity, a sometimes suffocating respectfulness that can make one forget that these events involved real people, human beings with passions and foibles. This is especially common when the subject matter is as dreadful as the 1970s-1980s military dictatorship in Argentina and its practice of "disappearing" — kidnapping, torturing, raping and killing — its own citizens.
Not so, "Argentina, 1985."
The new Spanish-language film from Amazon — Argentina's submission for the 2023 international feature Oscar — gives these crimes against humanity every ounce of weight they demand but never forgets the humanity of its characters. This is particularly true of its depiction of protagonist Julio César Strassera, the prosecutor assigned the seemingly impossible task of holding to account the military leaders responsible for these atrocities. (Read more) — Michael Ordoña
'Tár'
Running time: 2 hours 38 minutes | Rating: R for some language and brief nudity.
Streaming: Prime Video: Rent/Buy |Apple TV+: Rent/Buy
Actress in a motion picture — drama: Cate Blanchett
It's not until an hour into "Tár" that we see the title character — a classical conductor known the world over as Lydia Tár and played by an unimprovable Cate Blanchett — do what she was born to do. It's an astonishing performance nestled inside another: In one shot, Lydia towers like a colossus over the podium and the camera, her face visible only to the musicians seated off screen, her arms spread wide as if she were embracing or perhaps possessing the world. Classical music buffs, who will have a particular field day with this movie, will also have sharper observations than mine on the merits of Blanchett's posture and baton technique. But this actor doesn't even need to lift a baton, or approach a podium, to make us feel we're in the presence of a singularly gifted musical body and mind.
A lesser movie — and one of the weird pleasures of "Tár" is that you can't stop imagining the lesser movie it so easily might have been — would have introduced Lydia in full-blown maestro mode, so as to convince us of her genius at the outset. But writer-director Todd Field takes that genius as a given and trusts we'll do the same; he respects the intelligence of the audience as surely as he does the magnificence of his star. (Read more) — Justin Chang
'Ozark'
Scripted drama | Rating: TV-MA
Streaming: Netflix: Included
Supporting actress — musical-comedy or drama television series: Julia Garner
Jason Bateman, America's sweetheart, plays Marty Byrde, a Chicago financial advisor. He is cautious, boring and, for the moment, obsessively distracted by a snippet of what looks like amateur pornography. For a while, you might think you are embarking on a rather dreary, and drearily familiar, drama of domestic breakdown and dinner-table scenes in which family members — wife Wendy (Laura Linney, another of America's sweethearts); 15-year-old daughter Charlotte (Sofia Hublitz); and 12-year-old son Jonah (Skylar Gaertner) — can barely sustain a conversation.
And, in part, you are embarking on that drama. But slowly the story you thought you were watching turns into something different. One thing we learn is that Marty's laundering money for a Mexican drug cartel and that his partner has been secretly taking a little of that lettuce home for himself. This prompts the arrival of upper-middle-management crime figure Del (Esai Morales) and the drama proper.
One thing leads to a horrible another, and in a moment of improvisation, Marty persuades Del not to kill him but instead send him down to the Lake of the Ozarks, painting this "redneck Riviera" as a potential criminal paradise, far from the much-seeing eye of the feds.
But the show comes fully alive in its secondary characters, particularly an extended family of petty criminals who fall athwart of more serious sorts; as their teenage de facto matriarch, Julia Garner is especially good, and her story line is arguably the most engrossing that "Ozark" has to offer. (Read more) —Robert Lloyd
'Euphoria'
Scripted drama | Rating: TV-MA
Streaming: HBO Max: Included
Actress in a television series — drama: Zendaya
In HBO's teen drama "Euphoria," creator Sam Levinson offers an unflinching glimpse into the lives — and the minds — of a group of high school students navigating substance abuse, gender and sexual identity, and the particular challenges of growing up online.
While the series has attracted attention for its risqué subject matter, though, Levinson's writing and direction are full of arresting ideas and images. That's especially true of the first season's third episode, "Made You Look," which not only features protagonist Rue Bennett's (Zendaya) irreverent voice-over narration but also an animated sequence, a split-screen text exchange and a fourth-wall breaking tutorial for men who like to take a certain kind of nude photo. (Read more) —Matt Brennan
'Elvis'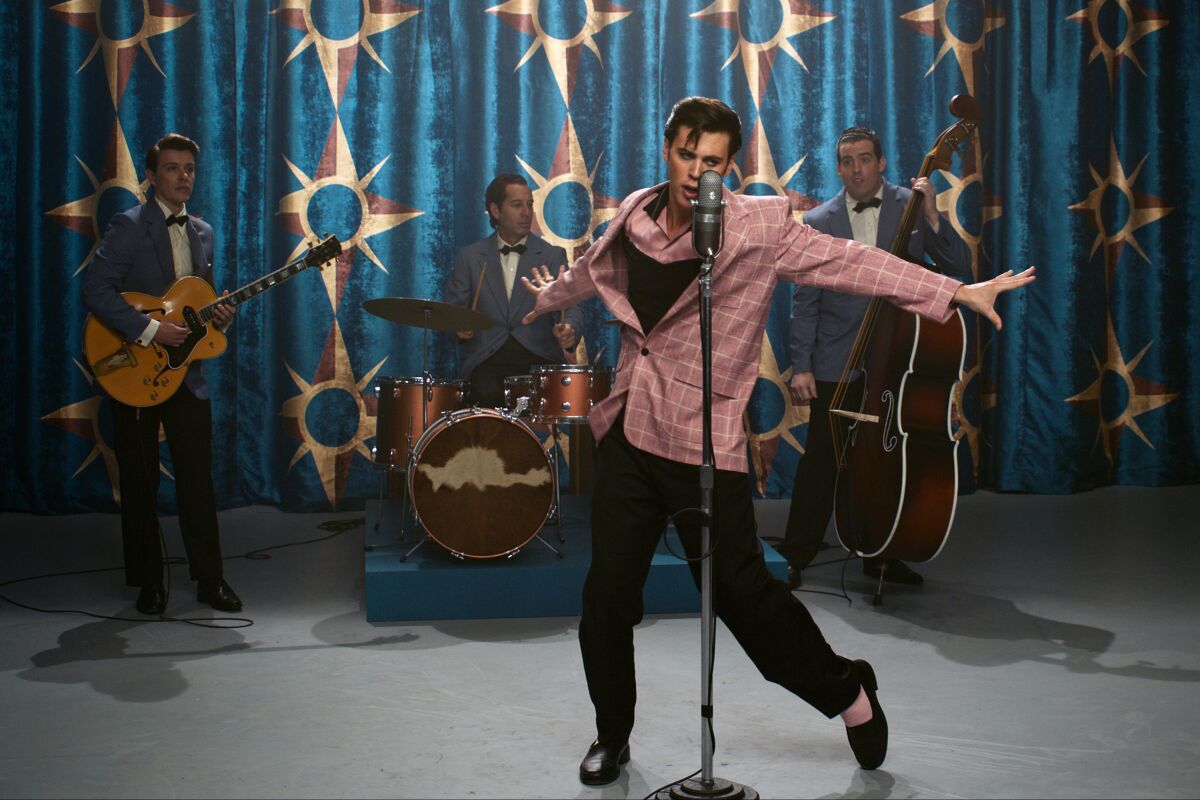 Running time: 2 hours 39 minutes | Rating: PG-13, for substance abuse, strong language, suggestive material and smoking.
Streaming: HBO Max: Included
Actor in a motion picture — drama: Austin Butler
Why hasn't there been a great Elvis biopic yet? Well, Austin Butler wasn't around to star as the King of Rock 'n' Roll. At the center of Baz Luhrmann's sprawling pop epic "Elvis," a film as opulent and outsize as the King's talent and taste, Butler delivers a fully transformed, fully committed and star-making turn as Elvis Presley. The rumors are true: Elvis lives, in Austin Butler.
Swirling around Butler's bravura performance is a manic, maximalist, chopped-and-screwed music biopic in which Luhrmann locates Elvis as the Earth-shaking inflection point between the ancient and the modern, the carnival and the TV screen, a figure of pure spectacle who threatened to obliterate the status quo — and did. Luhrmann takes Presley's legacy, relegated to a Las Vegas gag, and reminds us just how dangerous, sexy and downright revolutionary he once was. He makes Elvis relevant again. (Read more) — Katie Walsh
'Guillermo del Toro's Pinocchio'
Running time: 1 hours 56 minute | Rating: PG, for dark thematic material, violence, peril, some rude humor and brief smoking.
Streaming: Netflix: Included
Motion picture — animated
Every "Pinocchio" is some wonder-struck filmmaker's hope that their carved, sculpted and painted version of Italian author Carlo Collodi's 140-year-old story about a manufactured boy will be accepted as a real movie someday. (Roberto Benigni and Disney have each tried twice.) Are we surprised, then, that Oscar winner Guillermo del Toro — the closest thing genre cinema has to a Geppetto considering the painstaking care of his imagined worlds — had his own in the works for more than a decade?
And is it any wonder that the choice of stop-motion for "Guillermo del Toro's Pinocchio" is just the modeling magic this tale needs to feel new-old again? Combining a darker tone closer to Collodi's spirit with a commedia dell'arte sensibility regarding familiar elements and bizarre tangents, Del Toro, his co-screenwriter Patrick McHale and co-director Mark Gustafson — a stop-motion veteran getting his first feature credit — have made more of a Frankenstein-ed fairy tale than some irreverent answer to the Mouse House's 1940 hand-drawn classic. That's a good thing. Sometimes an odd, awkward thing, and at times a naggingly modern thing, but mostly a good thing. (Read more) — Robert Abele
'Everything Everywhere All at Once'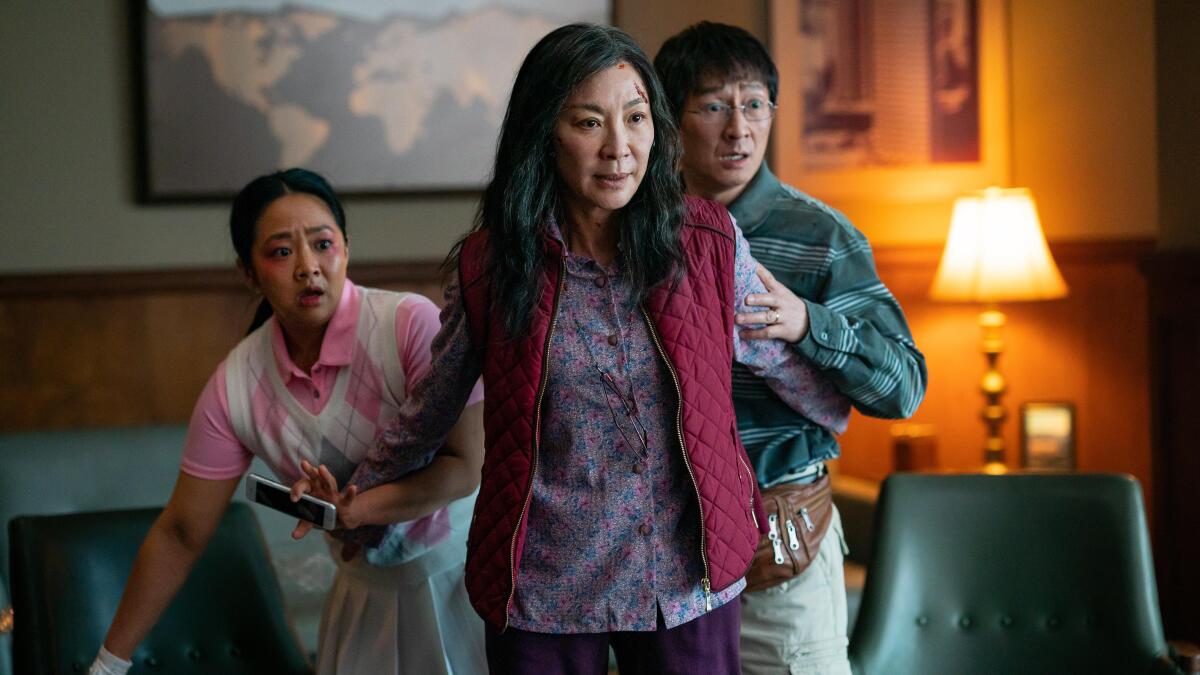 Running time: 2 hours 19 minutes | Rating: R, for some violence, sexual material and language.
Streaming: Paramount+: Included | Showtime: Included |
Actress in a motion picture — musical or comedy: Michelle Yeoh
Supporting actor in a motion picture: Ke Huy Quan
At the beginning of "Everything Everywhere All at Once," the camera creeps slowly toward a circular mirror — an apt start for a movie that will soon whoosh its characters through one looking glass after another. Amid all the whooshing, though, try to hold on to the image of that circle, which isn't the easiest thing to do amid all the sights and sounds, frenzied fight scenes and grotesque sight gags that Daniels — a.k.a. the writing-directing duo of Daniel Kwan and Daniel Scheinert ("Swiss Army Man") — have crammed into their latest surreal head-spinner of a movie.
Running a funny, messy, moving, grotesque, sometimes exhilarating and often exasperating 140 minutes, "Everything Everywhere All at Once" can be a pain and knows it; it might also be its own cure. Crammed with ideas, jokes, laments, non sequiturs and some terrific actors you've seen before (if not nearly enough), the movie comes at you like a warm hug wrapped in a kung fu chop: It's both a sweet, sentimental story about a Chinese American family and a wild, maximalist sensory assault. In the end, its many swirling parts unite around a remarkably coherent purpose: to provide a rare and dazzling showcase for a megawatt performer who scowls, gasps, punches, kicks, leaps, flips, soars and finally transcends.
That would be Michelle Yeoh, who has long been one of Asia's top action stars but — from early breakthroughs ("Tomorrow Never Dies," "Crouching Tiger, Hidden Dragon") through prestige disappointments ("Memoirs of a Geisha," "The Lady") to a few high-profile supporting turns ("Crazy Rich Asians," "Shang-Chi and the Legend of the Ten Rings") — has never enjoyed the spectacular Hollywood career she's long deserved. (Even "Everything Everywhere," originally conceived for Jackie Chan before Daniels decided to reconceive the lead as a woman, nearly eluded her as well.) The agony of what might have been haunts Yeoh's stardom, and it also looms over her Evelyn Wang, a stressed-out, desperately unfulfilled woman who's staring down the barrel of the IRS as the action gets underway. (Read more) — Justin Chang
'The Bear'
Scripted comedy | Rating: TV-MA
Streaming: Hulu: Included
Actor in a television series — musical or comedy: Jeremy Allen White
"The Bear" is an extraordinary show, not so much for the story it tells as how it tells it; you will have to go far to find another show so invested in and adept at portraying ordinary human speech and behavior, and even then you might not find one.
The story is this. Jeremy Allen White plays Carmen Berzatto, called Carmy, and sometimes Bear, a talented chef who returns from the world of very fine dining to run a family sandwich shop, the Original Beef of Chicagoland, after the suicide of his brother. He plans to clean up the joint — on his hands and knees where needed — improve the food and professionalize the kitchen, to create "an efficient, respectable place of business, run by adults."
And so the cooking staff are henceforth addressed as "chef," knives are sharpened and new systems put in place. This sits less well with some employees than others, namely Richie (Ebon Moss-Bachrach), an irascible honorary cousin, who runs the front of the house but is often just underfoot, talking loudly; and passive-with-the-emphasis-on-aggressive Tina (Liza Colón-Zayas), who has been working there for years and has her own way of doing things. (She will call Carmy not "chef" but "Jeff," as if she misheard the instruction.) By contrast, Marcus (Lionel Boyce), who has been baking bread for the sandwiches, is inspired to go beyond himself and sets out on a quest to create the perfect gourmet doughnut.
Into this hectic environment comes Sydney (Ayo Edebiri), hired as a sous chef, a Culinary Institute of America graduate with restaurant experience, a good deal of ambition and an awareness of Carmy's reputation. "The Bear," reduced to its basic structure, is "The Bad News Bears" (a film coincidentally mentioned here), in which a ragtag crew exceeds its own expectations, while the new boss earns himself a measure of redemption. It is delightful to watch these transformations, and, really, they are quite enough: The plot, such as it is, is secondary to the place and to the people. (Read more) — Robert Lloyd
'RRR'
Running time: 3 hours 5 minutes | Rating: TV-MA
Streaming: Netflix: Included
Original song — motion picture: "Naatu Naatu," by M.M. Keeravani, Chandrabose
The three-hour-plus, Indian historical action blockbuster set in the 1920s is bursting with flying motorcycles, flaming arrows, brooding bromance and physics-defying heroics. It opened to huge anticipation from South Asian U.S. audiences, who made the Telugu-language film the second-highest-grossing Indian film of all time in America.
The breakout hit from celebrated filmmaker S.S. Rajamouli ("Eega," "Baahubali Pt. 1 & 2") shows a flair for spectacle to rival the "Fast & Furious" franchise and an MCU (that's mythic cinematic universe) of its own, "RRR" (short for "Rise! Roar! Revolt!") imagines a fictional team-up between two revolutionary folk heroes portrayed by Indian superstars — N.T. Rama Rao Jr. as Komaram Bheem and Ram Charan as Alluri Sitarama Raju — who unite to fight against the British Raj. (Read more) — Jen Yamato
'Babylon'
Running time: 3 hours, 9 minutes | Rating: R, for strong and crude sexual content, graphic nudity, bloody violence, drug use, and pervasive language.
Streaming: Prime Video: Rent/Buy
Original score — motion picture: Justin Hurwitz
Hollywood, dreamily identified here as "the most magical place in the world," has in fact always been a seething cauldron of iniquity, vulgarity and vice. The vast, underdeveloped sprawl of Los Angeles, seen here in its pre-metropolitan infancy, is both a literal Wild West and a freewheeling filmmaking bazaar, populated by gangsters, con artists, imbeciles and madmen, and as yet ungoverned by any semblance of a Production Code. Movie stars — like the ones played here by a crisply tuxedoed Brad Pitt and a wildly vampy Margot Robbie — are indulged but also manipulated, exploited and treated like high-priced chattel. Bit players, musicians, sound guys and various other expendables have it significantly worse. (Read more) — Justin Chang
'Black Panther: Wakanda Forever'
Running time: 2 hours 41 minutes | Rating: PG-13, for sequences of strong violence, action and some language.
Streaming: Coming to Disney+ Feb. 1
Supporting actress in a motion picture: Angela Bassett
The end comes right at the beginning: swift, expected, crushing. King T'Challa, the Black Panther of Wakanda, is grievously ill, and his brilliant scientist sister, Shuri (a forceful Letitia Wright), is working desperately to engineer a cure. The clock ticks and the camera races, but for all the tension there's predictably zero suspense: T'Challa is soon dead, leaving the princess and the queen mother, Ramonda (Angela Bassett), to grieve with their subjects. That we never see even a flashback to T'Challa's face — the face of the late Chadwick Boseman — in these opening moments adds to the sense of finality, of an absence that reverberates beyond the parameters of fiction. We share the characters' devastation but not their shock; unlike them, we've had some time to prepare.
So, of course, have the filmmakers. And from the opening scenes of "Black Panther: Wakanda Forever," director Ryan Coogler's tact, intelligence and discernment are more than apparent. He wants to honor — without exploiting — Boseman's memory, and he knows that he doesn't have to push hard to earn our tears. He also knows that, as a matter of narrative opportunity as well as philosophical principle, every end really is a beginning. And so even as he guides us on a hushed procession through the streets of Wakanda and through a series of eerily beautiful funeral rites, Coogler maintains unflagging forward momentum and quickly puts a grief-stricken empire on high alert. There are already new adventures — and yes, fresh occasions for grief — on the horizon. (Read more) — Justin Chang
Credit: Source link