Top Female-Run Companies
March is Women's History Month, and female-owned and run businesses are the quiet success stories that are not emphasized enough. We're surrounded by so many accomplished women who have made significant contributions, and "the face of entrepreneurship is evolving to include all women, regardless of demographics. Even more impressive is that women are starting businesses on their own terms – whether it be their full-time focus or a part-time activity…The economic impact of women-owned businesses is undeniable, from the trillions they contribute via revenue to the millions of jobs they provide," said American Express Executive VP Courtney Kelso.
While we cannot list all of the women who deserve recognition, especially for their contributions to math, technology, science, and engineering, I would like to highlight some of the extraordinary women who run companies and brands we love. And while there's no shortage of big-name firms and top female-run organizations to invest in, I've specifically selected Build-A-Bear Workshop, Tapestry, Inc., and AMN Healthcare Services, Inc. because they have "Strong Buy" recommendations, and their successes align with our quant ratings and factor grades.
Growth of Female-Run & Female-Owned Publicly Traded Companies
Countless women throughout history have made a name for themselves and there are many more deserving of recognition for their accomplishments. We have historical female mathematicians like Sophie Germain and Emmy Noether and others in science, technology, engineering, and math (STEM) like Beatrice Shilling, Katherine Johnson that opened doors for the present-day women running standout companies we know and love.
Some of the top ten names not included in our three stock picks for female-run companies include:
Nasdaq, Inc. (NDAQ): Adena Friedman, President & CEO

ARK Investment Management LLC: Cathie Wood

General Motors (GM): Mary Barra, CEO

CVS Health Corporation (CVS): Karen S. Lynch, CEO

Citigroup Inc. (C): Jane Fraser, CEO

United Parcel Service, Inc. (UPS): Carol B. Tomé, CEO

Walgreens Boots Alliance (WBA): Rosalind Brewer, CEO

The Hershey Company (HSY): Michele Buck, CEO

Northrop Grumman Corporation (NOC): Kathy Warden, President & CEO

Anthem, Inc. (ANTM): Gail Koziara Boudreaux, CEO

Duke Energy (DUK): Lynn Good, Chairman, President & CEO

Advanced Micro Devices (AMD): Lisa Su, CEO
The list could go on, and many of these companies are Fortune 500 and the competitive advantage that these CEOs have created and how they thrive and continue to be top names should be celebrated. But it's time to dive into my top three picks, BBW, TPR, and AMN.
3 Best Female-Run Companies To Invest In
While not as popular of names as those listed above, the companies I've chosen have great fundamentals, strong growth, and profitability which are drivers that should benefit investors going forward.
1. Build-A-Bear Workshop, Inc. (
NYSE:BBW

)

Consumer cyclicals ended the fourth quarter in 2021 with approximately 10% in returns compared to the broader U.S. Equity market. Although there have been a number of supply chain disruptions, increasing labor costs, new variants, and geopolitical concerns, we see value in Build-A-Bear, which has been run by Sharon Price John, President, and CEO since 2013.
U.S. Equity Broader Market vs U.S. Consumer Cyclical Returns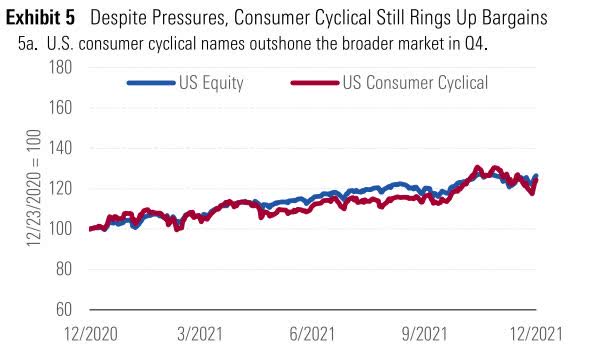 BBW is a multi-channel specialty store with an interactive experience that allows customers to create their own stuffed animals. Operating in three segments: direct-to-consumer, international franchising, and commercial, BBW is expected to have strong earnings growth to drive the stock for above-average gains.
I wrote about BBW last year as a Cheap Stock to Consider While You Shop Black Friday and it continues to impress. This company has an attractive valuation with a B+ Valuation grade, a one-year price increase of +120%, and a five-year +108%.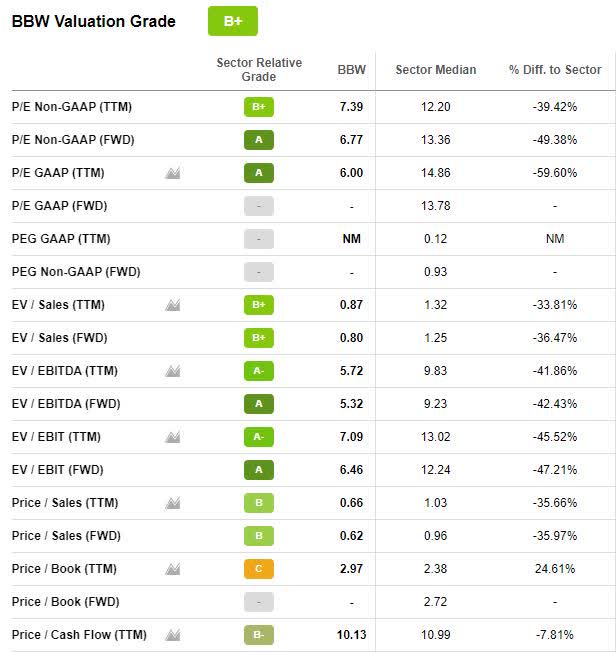 Trading nearly 50% below its sector peers with a forward P/E ratio of 6.77x based upon a consensus of expected 2023 EPS of $2.56, now is a great time to get this stock at a value. In addition, BBW has strong EV/Sales at 0.80 and excellent EV/EBIT at 6.46. With businesses seeing an increase in foot traffic and given Build-A-Bear is a hands-on in-person store experience, we believe the company will continue to experience growth as shoppers continue to be comfortable with getting out, post-pandemic.
BBW Growth & Profitability
Build-A-Bear continues to grow, expanding its products and e-commerce presence, and ramping up marketing. Fourth-quarter earnings were positive, beating both top-and bottom-line results. EPS of $0.97 beat by $0.05; revenue of $129.96M (38.76% YoY) beat by $87,000, resulting in one FY1 Up revision and zero down in the last 90 days. Total revenues for 2021 increased +60% from $411.5M compared to the prior year, and BBW continues to exceed growth expectations for their digital sales, which reached a record $73M. "In 2021, we delivered over $50 million in pretax income, again, resulting in the most profitable year in our history… We have continued to experience positive momentum in the first quarter of 2022. I would also like to note that our company was recently named to the Forbes list of America's Best Employers for the third consecutive time," said Sharon John, CEO of BBW. It's no wonder the company currently has an A Revisions Grade.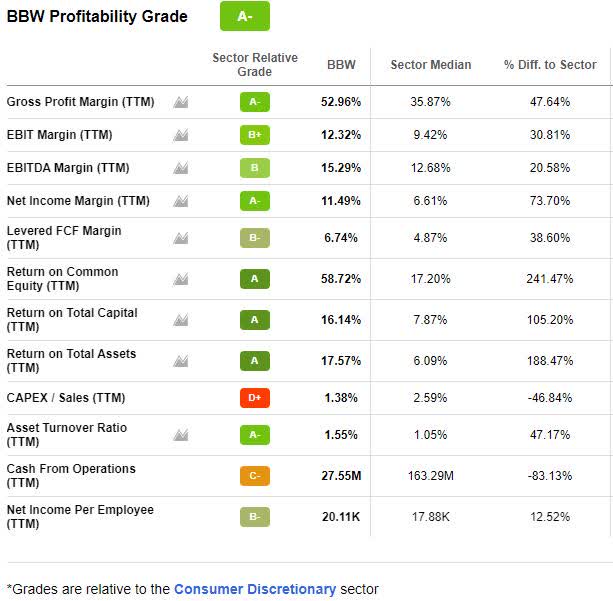 Record momentum and performance are driving BBW's profitability. With Q4 gross profit margins reaching 53.5% and "based on the positive momentum that we are seeing in our business across geographies, in our first quarter, we currently expect total revenue to exceed prior year revenue, and both pretax income and EBITDA to exceed the record profitability we recorded in Q1 of 2021," said Build-A-Bear CFO Voin Todorovic during the Q4 Earnings Call. Proof of the company's continued success is BBW's declaration of a $1.25 special dividend and the Board's approval to repurchase $25M in a buyback plan, which was paid to its shareholders on December 27, 2021. If this doesn't scream women-run companies are great investments, let's dive into our next stock pick.
2. Tapestry, Inc. (
NYSE:TPR

)

Like many companies that felt declines and the effect of the pandemic, Tapestry, Inc. and its three international luxury lifestyle brands, Coach, Kate Spade, and Stuart Weitzman experienced profit declines. But those profits and the company's growth are rapidly improving with vaccine distribution resulting in an increasing number of shoppers and reopenings, coupled with TPR's Acceleration Program focused on cost-cutting, improving margins, and more emphasis on digitization to support profitability and growth.
TPR Profitability and Growth
Joanne C. Crevoiserat, CEO of Tapestry Inc. is focusing efforts on delivering growth and sales back to pre-pandemic levels. After advancing TPR's digital capabilities, the company attracted 3 million new customers in North America, acquiring more than 11 million total within the last 18 months. "We are a different company than we were just 18 months ago, backed by the strength of our unique brands and the benefits of our multi-brand platform…We realized another quarter of outperformance with sales up approximately 30% versus last year, nearly 3x pre-pandemic levels…we expect digital (sales) to reach $2 billion in revenue in this fiscal year with further runway ahead," said Crevoiserat during the 22Q2 Earnings Call.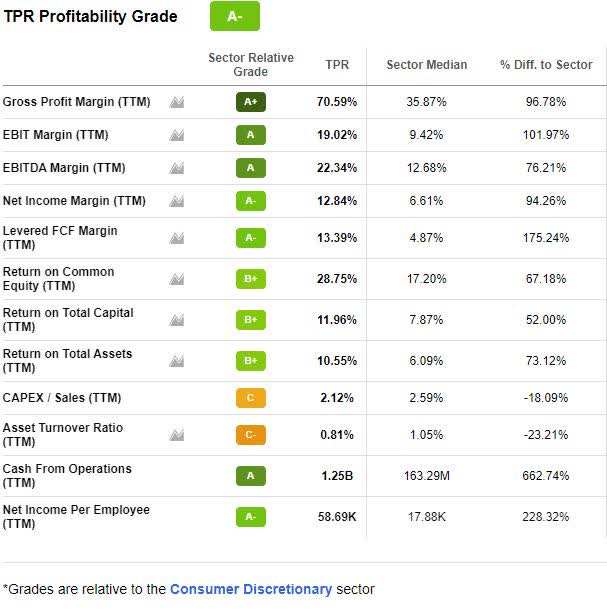 As depicted by the A- Profitability Grade and underlying metrics above, TPR showcases strong gross profit margins of 70.59%, EBITDA margin of 22.34%, and cash from operations at $1.25B. In addition to excellent profitability, Tapestry, Inc.'s revenue growth of 27% YoY is on the rise, as evidenced by the grades below, and "Several favorable factors exist to support Tapestry's performance going forward. With its "Acceleration Program," the company achieved approximately $200 million of gross run-rate expense savings in fiscal 2021 and is on track to realize gross run-rate savings of $300 million in FY 2022," writes LD Investments.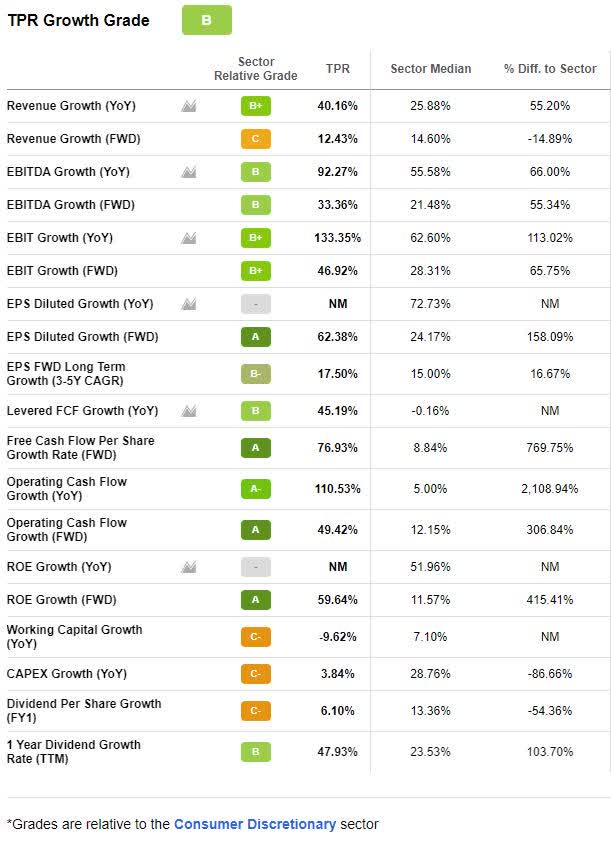 Second-quarter 2022 results were strong, with an EPS of $1.33 beating by $0.14 and revenue of $2.14B beating by $146.08M, a YoY increase of 27.04%. The EPS surprise has shown consistently over the last seven quarters that have seen both top- and bottom-line beats, substantiating why the strong free cash flow returned more than $550M to shareholders after declaring a $0.25/share quarterly dividend. Despite an 11.88% drop in price earlier this month attributable to a dismal March 7th trading day that included an S&P 500 fall of 2.95% and Dow Jones drop of 2.37%, TPR is currently trading below $40/share and now is an opportune time to buy the dip.
TPR Valuation
TPR offers growth at a reasonable valuation. The stock is trading at a relative discount with a forward P/E ratio of 10.35x, more than 22% below the sector. Additionally, Tapestry, Inc. showcases a solid B forward PEG ratio at 0.59x and EV/Sales figures. Although the company has some execution risks to overcome in addition to making strides to increase operational inefficiencies and emerge stronger out of the pandemic, BOOX Research said it best: "There's a bull driving this 'Coach'" in Tapestry stock! We believe this stock is a strong buy, as well as our final woman-run stock pick, AMN.
3. AMN Healthcare Services, Inc. (
NYSE:AMN
)
San Diego headquartered AMN Healthcare Services, Inc. is a temporary healthcare staffing company for hospitals and healthcare facilities throughout the U.S. Serving as President and CEO, Susan Salka has been with AMN Healthcare services since 2005, and is noted for her gender parity, diversity inclusion, and her stellar reputation within the industry. Salka has been recognized by Modern Healthcare as "One of the Most Influential People" and by Women in Staffing as a 2021 Global Power for her tremendous contributions. If this isn't enough to convince you why AMN is a Strong Buy, let us dig into the fundamentals of the company.
AMN Momentum
Labor shortages and a desperate need for medical staff for the ailing amid the pandemic and variants is generating increased demand for healthcare employees, and AMN is taking advantage of the labor market and positioning itself for growth. On the strength of the current labor climate, this stock is riding the momentum as depicted in the below figures, where a steady increase in price performance is outperforming its sector.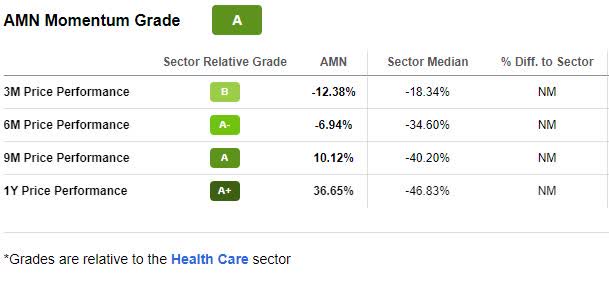 As the market expands and more people go back to work, AMN continues to build a reputation for aiding the industry and is capturing market share. "The healthcare staffing market is expected to see strong growth in the foreseeable future. Currently, the US healthcare staffing market is about $25 B in 2021. An aging US population, shortage of physicians and nurses, and increased spending on healthcare are all expected to increase the total addressable market over the next decade," writes Seeking Alpha author, Cappuccino Finance. Now's the time to take advantage, while the company is still trading at a reasonable discount.
AMN Valuation
AMN comes at a great price given its sector and ranks #1 in its industry. With a one-year price increase +37% and B- overall valuation grade, this stock comes at a discount.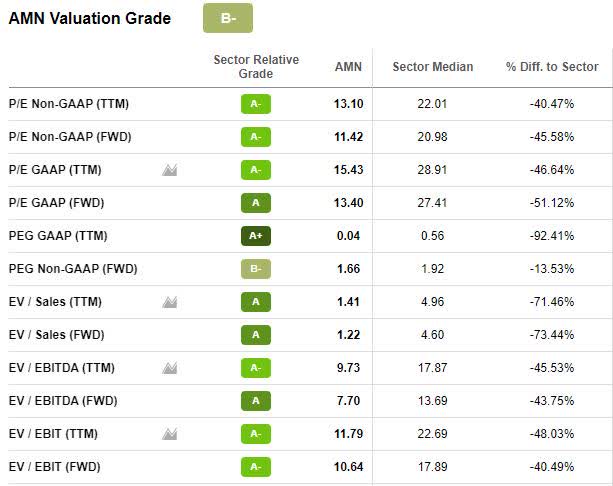 When you look at all of the underlying valuation metrics above, it's clear that AMN comes at a great discount. With all underlying metrics below the sector median and As across the board, the numbers suggest that this stock is discounted, and growth prospects warrant some exploring as well.
AMN Growth & Profitability
Healthcare, especially in the U.S., is a growing and profitable industry. With an aging population and staffing shortages, particularly in the caregiver segment, AMN is well-positioned, especially given its extremely strong Q4 results that ended 2021 with approximately $4B annual revenue, 66% higher than 2020. Over the course of the last 12 quarters, AMN continues to surprise with their earnings, so it's no surprise that within the last 90 days, the firm has seen 8 upward revisions.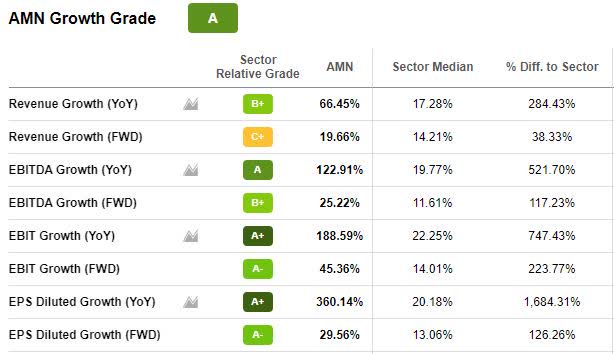 Year-over-year, AMN's nursing and allied revenue increased 136% given higher bill rates and staffing hours. Its physician and leadership segment grew 47% for the same period, and for 2021 as a whole, adjusted operating margin was at 15.3%, up from its 12.4% in 2020 because of greater operating leverage.
AMN is highly profitable because of its ability to supply all types of medical workers for its client-base. With AMN's market capitalization of $4.95B and more than 3,200 employees, it continues to be one of the world's largest providers of healthcare staffing, in one of the fastest growing industries in the nation. We foresee demand continuing to remain robust, increasing over time, and as result, this stock along with our other top stocks with women-run companies should be added as a complement to one's portfolio.
Bottom Line: Our 3 Top Stocks Are Strong Buys with Women-Led Companies
Our 3 top stocks with women-run firms are excellent buys, and all three of these picks are very attractive on growth and profitability metrics, with solid valuations. We believe the three stocks we selected are Strong Buys, and each is in a different industry.
If you're interested in finding other Top Rated Stocks or creating your own screener specific to your stock interests and investing strategy, click the previous links. Our tools help to ensure your portfolio contains strong investments that stand to increase over time.
Credit: Source link